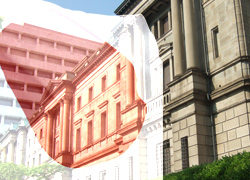 Shinzo Abe's pondering over the sales tax are causing uncertainty for the 2nd most traded currency pair.
The yen touched its 7 year low just before it regained and then only to again to weaken as investors tried deciphering the signs of some politicians in regards to a raise in the levy. A slide set by the major Japanese bank was delayed, this after the bank increased stimulation to a record and there was a plan by the nation's pension fund to increase overseas investment. The U.S. currency climbed versus 16 major counterparts before American data expected to reveal retails sales made a comeback.
A currency strategist in Sydney at Westpac Banking Corp., Sean Callow, claimed
The U.S. dollar is broadly stronger, and the dollar-yen is probably leading that. I don't think anyone has really changed their overall view that most likely the sales-tax hike will be delayed.
The Japanese currency fell 0.4 percent to 116.25 per dollar as of 2:58 pm Tokyo time. Earlier it was 116.29 which was the lowest point since 2007 October. It was trading at 144.53 per euro, this yesterday just after it declined 0.6 percent to 144.43. The euro dropped 0.4 percent to $1.2431.
The Japanese currency continued a 4 week loss that saw it down by more than 8 percent which was the most compared to other major currencies, this as talks regarding an escalation in sales tax became the reason for the yen weakening.
« Yen drops again Yen continues its stumble to a 7 year low »