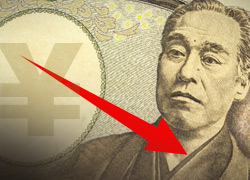 The Japanese currency slid towards a plausible 7 year low on thoughts that Shinzo Abe, the Prime Minister of Japan, has decided to ask for a quick election. The Aussie dollar dropped when an official of a Reserve Bank claimed policy makers have not done away with the idea of an intervention.
The Japanese currency fell against all of its 16 peers, with the exception of 1. Abe will probably address the people on the 14th of December after delaying a not liked sales tax climb set for 2015 October, so is thought by people on the inside who asked not to be identified because they do not have permission to speak. The 18 nation currency fell, this just before data from Germany showing consumer prices dropped over the past month.
A head at the foreign exchange and money trading in New York at Sumitomo Mitsui Banking Corp., Masato Yanagiya claimed;
The market has taken the idea of a delay in raising the sales tax as a positive, so stocks have been bought and dollar-yen has risen. Once we get an actual announcement, there's a good chance we'll see a further reaction in the market.
The Japanese currency slid 0.2 percent to 115.72 per dollar at 6:30 am London time from its 115.49, this just after it touched 116.10 on the 11th of November which is the lowest it's been since back in 2007 October. It dropped 0.3 percent to 144.05 per euro.
The Aussie fell 0.1 percent to 87.11 U.S. cents yesterday, this just after touching 87.45 that was the highest since the 5th of November. The Kiwi dollar was unfazed at 78.77 U.S. cents, this just after it strengthened 1.7 percent over the last 2 days.
« Yen nearing a 7 year low Deliberation setting yen on a spin »