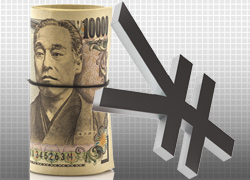 The Japanese currency went up just after it dropped to a 7 year low versus the dollar as a need for a safer haven gave revival to the currency after a report showed the Japanese economy fell into recession.
The Yen strengthened from its lowest point since 2008 October against the 18 nation currency as countries stocks fell and a surge of momentum that some investors use, signaled that the Japanese currency was set for a rally. The Kiwi went up for a 5th day when retail sales strengthened in spite of contrary forecasts by economists. The Aussie strengthened to its strongest point this month as Australia signed an agreement with its Chinese counterpart for free trade between them.
The head at global markets research in Tokyo at Bank of Tokyo-Mitsubishi UFJ Ltd., Minori Uchida said,
This pretty much nails the tax-hike delay but stocks are looking shaky after the contraction in the economy. We could see 117 yen become a short-term peak for the dollar.
The Japanese currency went up 0.5 percent to 115.69 per dollar at 2:23 pm Tokyo time just after it slid to 117.05 earlier on which was the lowest point since back in 2007 October. The yen strengthened 0.2 percent to 145.18 per euro when it dropped to 146.53. The U.S. currency fell 0.2 percent to $1.2549 per euro.
There was an annual contraction of 1.6 percent of the Japanese economy in its 3rd quarter, this after it shrank 7.3 percent in the prior 3 months. Some Economists forecast an increase of 2.2 percent. Etsuro Honda who is an aid to the Prime Minister Shinzo Abe claimed that going ahead with another increase in tax in the upcoming year would be unthinkable if Japan's growth would be less than 3.8 percent.
« Deliberation setting yen on a spin The Yen continues to near 7 year low »