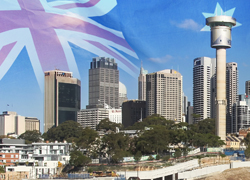 The dollar from Australia was trading at 0.3 percent from its 4 year low, this just after the Deputy Governor Philip Lowe of the central bank yesterday claimed the Aussie could likely fall even further to the point of the commodity export prices.
The Japanese currency was close to the lowest level in 7 years versus the American dollar as the Bank of Japan board's Sayuri Shirai claimed that she would support the central bank's stimulus of its monetary status. The U.S. currency was about the same versus most of the counterparts, this just before economists release a report saying it would show that orders of durable goods has fallen for a 3rd month. The Won of South Korea climbed for its 3rd day.
An economist attending the Sydney St. George Bank Ltd, Janu Chan said
Weaker commodity prices and the possibility that the interest-rate differential could narrow between the U.S. and Australia, with the Fed looking to raise interest rates next year, have been pointing to a weaker Australian dollar for some time.
The Aussie traded at 85.41 U.S. cents as of 2:46 pm Tokyo time from its 85.30 when it reached 85.14 that was the lowest since back in 2010 July.
The Japanese currency climbed 0.1 percent to 117.81 per dollar when it reached 118.98 on the 20th of November which is the lowest since back in 2007 August. The 18 nation currency was unfazed at $1.2471.
« Yen makes a small comeback Dollar takes a drop for a 3rd day against the Yen »