2013-05-21 04:36 GMT
Fed-Speak to dominate EUR/USD trading in coming days
The EUR/USD was able to claw back a small portion of its losses suffered last week, finishing the day up 64 pips at 1.2884. Economic news was light on the session with European markets closed and no releases out of the US. Market participants will be expecting volatility to really pick up later in the week when we see Fed Chairman Bernanke's testimony to Congress, the release of the most recent FOMC minutes, and a number of other regional Fed speakers on the wires. Given the recent market buzz of the prospects of Fed tapering QE, the next few days could help set a more established trend for the pair as we near month end.
According to Marc Chandler, Head Currency Strategist at BBH, "in the US, the FOMC minutes from the April 30/May 1 meeting will be released on Wednesday. Markets will be parsing them very thoroughly for any clues about QE tapering. Those minutes will be sandwiched between another heavy slate of Fed speakers including Bullard and Dudley on Tuesday, Bernanke testimony on Wednesday, and Bullard again on Thursday. Bernanke's testimony will be the most important, of course. While we expect the key Fed officials to signal steady as she goes with regards to QE, we acknowledge that markets could see some turbulence." Other analysts also mention to keep a focus on Europe, as we will see a number of important PMI releases from the region later in the week as well as speeches from important European officials including ECB President Draghi.-FXstreet.com
2013-05-21 06:00 GMT
Germany. Producer Price Index (YoY) (Apr)
2013-05-21 08:30 GMT
UK. Consumer Price Index (YoY) (Apr)
2013-05-21 14:00 GMT
USA. Treasury Sec Lew Speech
2013-05-21 23:50 GMT
Japan. Merchandise Trade Balance Total (Apr)
2013-05-21 04:36 GMT
Fed-Speak to dominate EUR/USD trading in coming days
2013-05-21 04:26 GMT
USD/JPY, break through 103.5 allows 105/105.50 – JPMorgan
2013-05-21 03:19 GMT
EUR/JPY continues to eye upper end of range near 133.00
2013-05-21 01:48 GMT
AUD/USD consolidates below 0.9800 after RBA minutes release


MARKET ANALYSIS – Intraday Analysis

Upwards scenario: On the upside market might get more incentives above the immediate resistive barrier at 1.2905 (R1). If the price manages to overcome it we would suggest next intraday targets at 1.2930 (R2) and 1.2955 (R3). Downwards scenario: On the other hand, possible downtrend development may encounter supportive measure at 1.2860 (S1). Penetration through this level would targeting then supportive means at 1.2836 (S2) and 1.2811 (S3) later on today.
Resistance Levels: 1.2905, 1.2930, 1.2955
Support Levels: 1.2860, 1.2836, 1.2811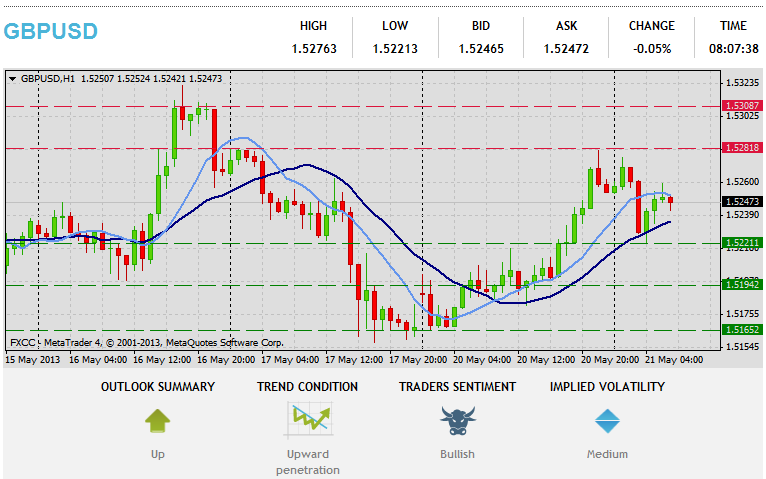 Upwards scenario: While both moving averages are pointing down, medium-term technical outlook would be positive. Key resistance level lie at 1.5281 (R1), above here opens a route towards to our initial targets at 1.5308 (R2) and 1.5336 (R3). Downwards scenario: Local low at 1.5221 (S1) offers next immediate support barrier. Successful penetration below it would open path towards to next intraday targets at 1.5194 (S2) and 1.5165 (S3).
Resistance Levels: 1.5281, 1.5308, 1.5336
Support Levels: 1.5221, 1.5194, 1.5165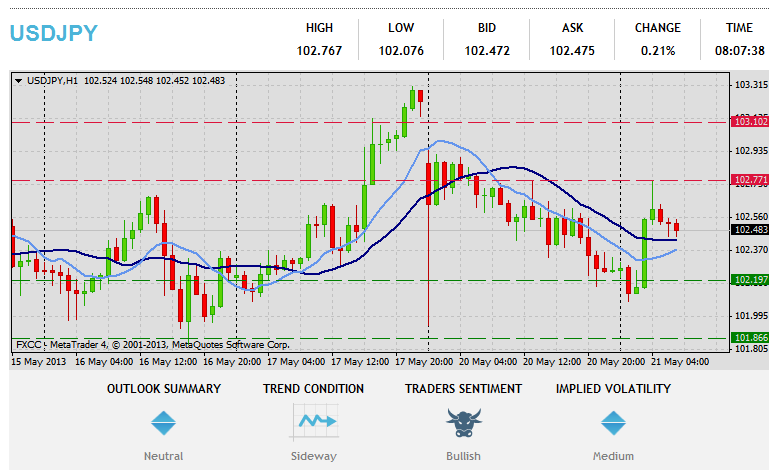 Upwards scenario: On the upside resistive structure at 102.77 (R1) prevents further gains. Clearance here is required to open route towards to next target at 103.10 (R2) and then final target could be triggered at 103.43 (R3). Downwards scenario: On the other hand, pair keeps the consolidation pattern intact. We see potential to positively retest supportive barrier at 102.19 (S1). Depreciation below it would open route towards to initial targets at 101.86 (S2) and 101.52 (S3) in potential.
Resistance Levels: 102.77, 103.10, 103.43
Support Levels: 102.19, 101.86, 101.52
« USD/CAD sideways trading at 1.0276/82 EUR/USD eyes 1.2900 after German PPI »