2013-03-26 06:19 GMT
Cypriot central bank to meet tonight on capital controls
In an effort to avoid the money's outflow, the Cypriot central bank will meet tonight in an extraordinary session to introduce capital restrictions according to the Cyprus' president Anastasiades. The president also said, in a recent speech, the capital controls will be a temporary measure but difficult measures will be implemented in the following days. Meanwhile, Cypriot banks will open on Tuesday except Bank of Cyprus and Laiki. Earlier on the day, Jeroen Dijsselbloem, head of the Eurogroup of eurozone finance ministers, affirmed that the Cypriot plan would be used as template for another countries in the eurozone. Investors were afraid for more levys and capital restrictions across the union. Renewed jitters on Cyprus and fears of contagion to other indebted sovereigns in the bloc periphery have been weighting on EUR after the increased vulnerability seen in Cypriot deposits.
And speaking of anti-climaxes, Cyprus appears to have reached an agreement to avoid bankruptcy but, whilst it protects savers with less than €100,000 on account in Cypriot banks, bond holders in Laiki Bank will lose their funds and depositors with more than €100,000 in Laiki will lose a substantial part of those funds. The accounts will be frozen while the bank is closed down and most of its debt transferred to Bank of Cyprus and that could result in larger investors losing up to 90% of their funds. That isn't going to make Cyprus popular with their Russian and Eastern European tax avoiders and it won't make Europe popular with Russia either. That's could be a problem because Russia controls a massive amount of the energy used by Europe. If Cyprus and the EU wanted to make enemies, other than invading Russia, they couldn't have hatched a better plan.-FXstreet.com
2013-03-26 07:00 GMT
United Kingdom. Nationwide Housing Prices n.s.a (YoY)
2013-03-26 12:30 GMT
United States. Durable Goods Orders (Feb)
2013-03-26 14:00 GMT
United States. Consumer Confidence (Mar)
2013-03-26 14:00 GMT
United States. New Home Sales (MoM) (Feb)
2013-03-26 05:51 GMT
AUD/USD unchanged as RBS Stevens speech a non event
2013-03-26 05:19 GMT
EUR/USD down to 1.2660 now and option
2013-03-26 01:41 GMT
USD/JPY higher on Kuroda's promises; Again
2013-03-26 01:32 GMT
GBP/JPY recovers ground as Kuroda speaks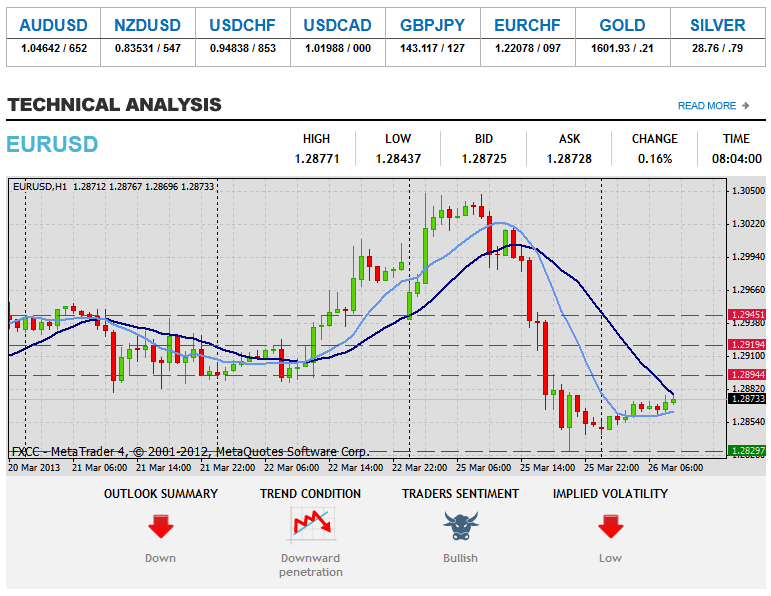 MARKET ANALYSIS – Intraday Analysis
Upwards scenario: EUR extended its decline versus the USD and determined negative medium-term technical outlook. However above the resistance at 1.2894 (R1) opens a route towards to next resistive measures at 1.2919 (R2) and 1.2945 (R3) Downwards scenario: In terms of technical levels, risk of price depreciation is seen below the next support level at 1.2829 (S1). Loss here would suggest to monitor marks at 1.2806 (S2) and 1.2784 (S3) as possible intraday targets.
Resistance Levels: 1.2894, 1.2919, 1.2945
Support Levels: 1.2829, 1.2806, 1.2784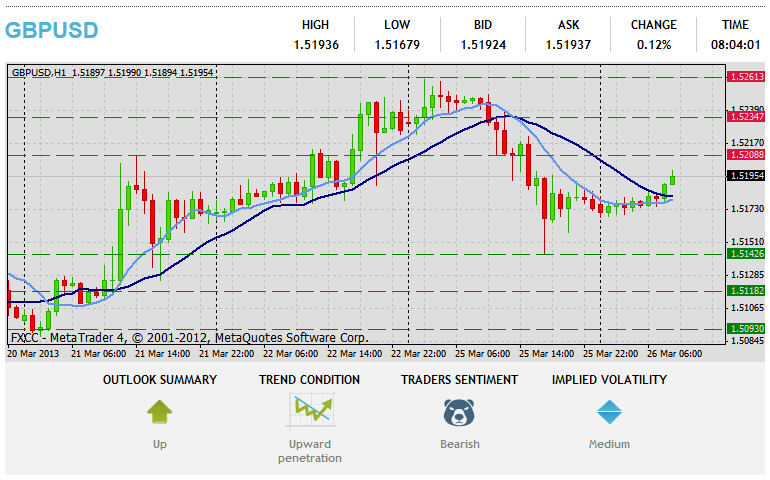 Upwards scenario: Instrument formed fresh low yesterday however retail trades sentiment shifted to the bullish side on the short-term perspective. Further market rise is limited now to the key barrier at 1.5208 (R1), clearance here is required to enable next resistances at 1.5234 (R2) and last one at 1.5261 (R3). Downwards scenario: Failure to establish further gains might lead to the price depreciation. Next immediate support could be found at 1.5142 (S1). Break here is required to open route towards to our targets at 1.5118 (S2) and 1.5093 (S3).
Resistance Levels: 1.5208, 1.5234, 1.5261
Support Levels: 1.5142, 1.5118, 1.5093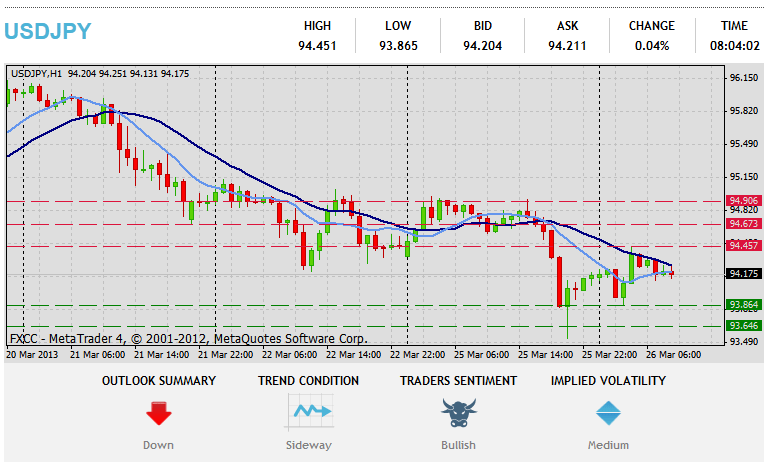 Upwards scenario: Medium- term tendency remains bearish as both moving averages are pointing down. Though risk of market strengthening is seen above the resistance level at 94.45 (R1). Clearance here would open way towards to next targets at 94.67 (R2) and 94.90 (R3). Downwards scenario: Risk of market decline is seen below the key support level at 93.86 (S1). Loss here might downgrade currency rate towards to the next supportive means at 93.64 (S2) and 93.43 (S3) in potential.
Resistance Levels: 94.45, 94.67, 94.90
Support Levels: 93.86, 93.64, 93.43
« Forex Technical & Market Analysis: March 25 2013 Forex Technical & Market Analysis: March 27 2013 »