2013-03-27 06:24 GMT
European Parliament considers bailing-in large depositors
The euro dropped in the European afternoon on information from Reuters that the European Parliament would be inclined to bail-in big savers, who hold deposits of over 100,000 euros at distressed banks. MEP Gunnar Hokmark, who is taking part in creating a new law aimed at dealing with such banks told Reuters that: "Deposits below 100,000 euros are protected … deposits above 100,000 euros are not protected and shall be treated as part of the capital that can be bailed in." Eurogroup chief Jeroen Dijsselbloem's comments on Monday, suggesting that the bailout deal struck between Cyprus and the Troika might be a model for rescue programs for other EU countries in the future, caused the European stock markets to drop sharply in late trading.
Wall Street rises despite bad US data and Cyprus. The US stocks market traded higher on Tuesday as market didn't pay much attention to the lower-than-expected US consumer confidence but better-than-expected home prices. The Dow surged to new all-time high. The Dow Jones advaced 111.90 points or 0.77% to close at 14,559.65. The S&P 500 added 12.08 points or 0.78% to end the day at 1,563.77. And the Nasdaq Composite gained 17.18 points or 0.53% to finish at 3,252.48.-Fxstreet.com
2013-03-27 09:30 GMT
United Kingdom. UK Gross Domestic Product (YoY) (Q4)
2013-03-27 10:00 GMT
E.M.U. Consumer Confidence (Mar)
2013-03-27 12:30 GMT
Canada. Bank of Canada Consumer Price Index
2013-03-27 14:00 GMT
United States. Pending Home Sales (YoY)
2013-03-27 07:24 GMT
EUR/USD muted after German data
2013-03-27 06:25 GMT
Time to build a short position in JPY again – RBS
2013-03-27 04:28 GMT
USD/JPY climbs above 94.80 helped by USD buying across the board
2013-03-27 03:27 GMT
NZD/USD, exporters keen buyers of NZD dips – BNZ
MARKET ANALYSIS – Intraday Analysis
Upwards scenario: Neutral channel formation remains in play on the hourly chart. Our next resistance level is placed above the local peak at 1.2868 (R1). Strengthening above it would point to resistive structure at 1.2890 (R2) onto 1.2912 (R3). Downwards scenario: While both moving averages are pointing down, medium-term technical outlook would be negative. Key support level lie at 1.2837 (S1), below here opens a route towards to our initial targets at 1.2815 (S2) and 1.2793 (S3).
Resistance Levels: 1.2868, 1.2890, 1.2912
Support Levels: 1.2837, 1.2815, 1.2793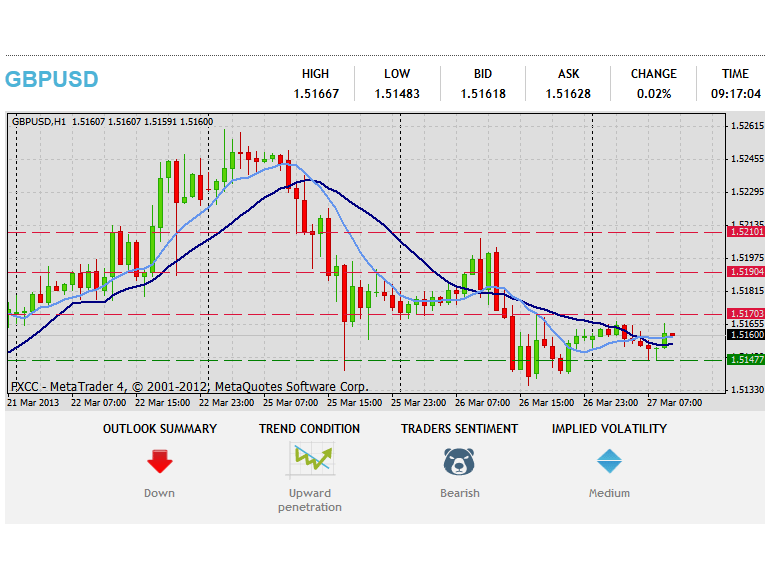 Upwards scenario: Next resistance level is seen at 1.5170 (R1), subsequently loss here might create upside momentum and drive market price towards to next targets at 1.5190 (R2) and 1.5210 (R3) in potential. Downwards scenario: If the price failed to establish further positive bias today, we expect to see retest of our key support level at 1.5147 (S1). Break here is required to enable initial targets at 1.5128 (S2) and 1.5
109 (S3) in potential.
Resistance Levels: 1.5170, 1.5190, 1.5210
Support Levels: 1.5147, 1.5128, 1.5109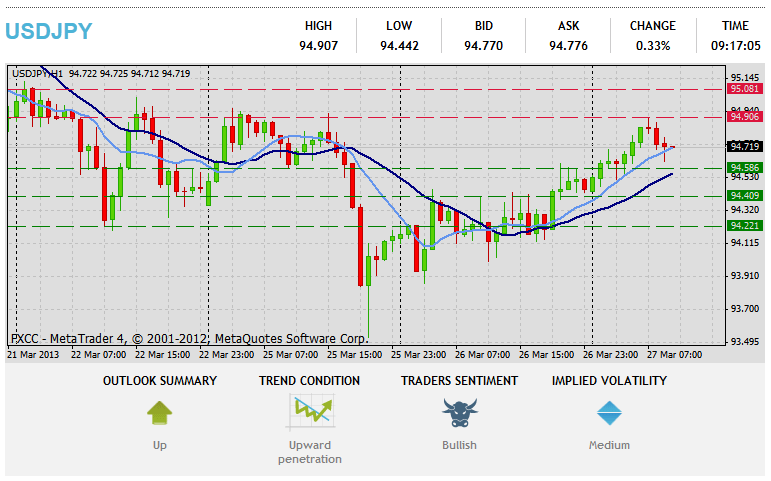 Upwards scenario: Next hurdle on the upside is seen at important technical level – 94.90 (R1). If the price manages to overcome it we expect further acceleration towards to our initial targets at 95.08 (R2) and 95.25 (R3). Downwards scenario: Instrument might retest our next support level at 94.58 (S1) later on today. Market decline below it would create bearish sentiment and enable our interim target at 94.40 (S2). Final support for today locates at 94.22 (S3).
Resistance Levels: 94.90, 95.08, 95.25
Support Levels: …..
« Forex Technical & Market Analysis: March 26 2013 Forex Technical & Market Analysis: March 28 2013 »