2013-03-28 06:10 GMT
Capital controls in Cyprus to affect international transactions
he Cypriot government has revealed the details of the capital controls it intends to impose on transfers before banks reopen on Thursday. The restrictions are aimed at preventing an outflow of money and are supposed to last seven days. The capital controls, which will affect all accounts regardless of their currency, will involve a ban on taking out sums of money in cash greater than 3000 euros on one trip out of the country and a monthly 5000 euro limit on credit and debit card transactions abroad. Additionally, cashing cheques will be prohibited and savings accounts frozen until their expiry date. Restrictions on ATM withdrawals have not been listed among the capital control measures, even though they currently exist.
The financial markets are still mulling over the repercussions of the Cyprus drama and their angst is being fuelled by comments by Dutch Finance Minister Jeroen Dijsselbloem, that the EU sees the Cyprus deal as a template for any further bailouts. i.e. bond holders will lose their fund entirely and larger savers would have some of their funds syphoned off to aid the bailout. That was later denied according to a report on Bloomberg but investors with funds in EU banks are understandably edgy and all eyes will be on the Cypriot withdrawals over the weeks ahead. The fear of a run on European banks and the political pressure that would produce is ever-present and there are many reports about the rise of the German Anti-Euro political party. The Euro remains at the weaker end of its range in anticipation of those events-FXstreet.com
2013-03-28 07:00 GMT
Germany. Unemployment Change (Mar)
2013-03-28 12:30 GMT
United States. Gross Domestic Product Annualized (Q4)
2013-03-28 12:30 GMT
Canada. Gross Domestic Product (MoM) (Jan)
2013-03-28 23:30 GMT
Japan. Unemployment Rate (Feb)
2013-03-28 02:23 GMT
AUD/USD turns bearish as stocks decline in Asia
2013-03-28 02:22 GMT
USD/JPY dips to 94.10 lows post-Kuroda
2013-03-28 02:03 GMT
New Zealand: M3 Money Supply (YoY) (Feb): 6.6% vs 6.4%
2013-03-28 01:40 GMT
EUR/AUD keeps pushing below 1.2250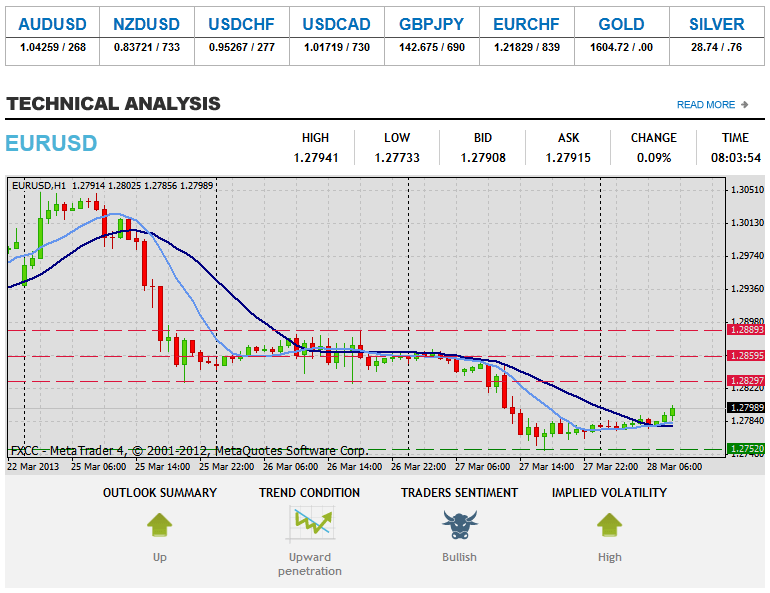 MARKET ANALYSIS – Intraday Analysis
Upwards scenario: The low of the 26-03-2013 offers an important resistive level at 1.2829 (R1). Any penetration above it might shift the balance to the bullish side and validate our intraday targets at 1.2859 (R2) and 1.2889 (R3). Downwards scenario: Further downtrend evolvement might occur below the immediate support level at 1.2752 (S1). Clearance here is required to enable our next targets at 1.2722 (S2) and 1.2693 (S3) in potential.
Resistance Levels: 1.2829, 1.2859, 1.2889
Support Levels: 1.2752, 1.2722, 1.2693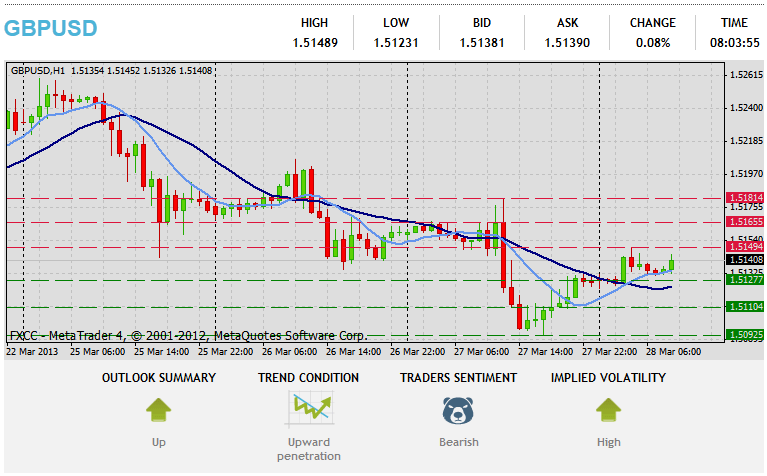 Upwards scenario: Next hurdle that limit uptrend development lies above the local high at 1.5149 (R1). If the break occurs here, next attractive level could be exposed at 1.5165 (R2) and any further rise would then be limited to 1.5181 (R3). Downwards scenario: On the other hand, possibility of market decline is seen below the next support level at 1.5127 (S1). Loss here would suggest next targets at 1.5110 (S2) and 1.5092 (S3).
Resistance Levels: 1.5149, 1.5165, 1.5181
Support Levels: 1.5127, 1.5110, 1.5092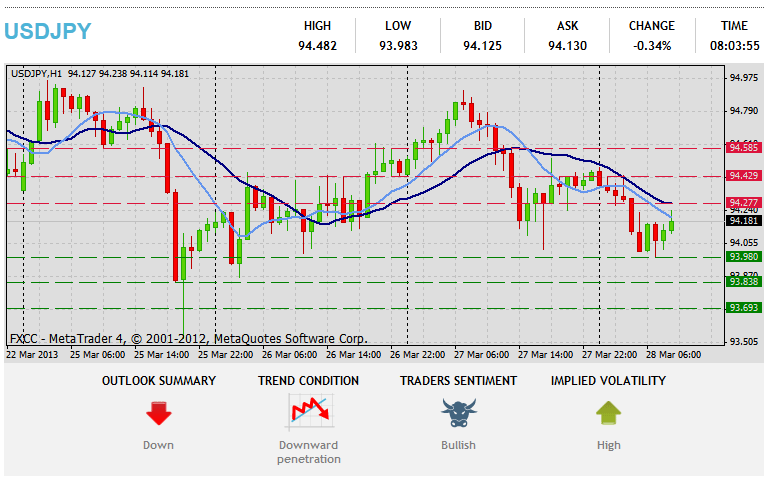 Upwards scenario: Possibility of market strengthening is seen above the resistance level at 94.27 (R1). Clearance here is required to validate next interim target at 94.42 (R2) and any further rise would then be targeting mark at 94.58 (R3). Downwards scenario: However the downside direction remains favored according to the technical indicators. Fresh low offers a key support measure at 93.98 (S1). Decline below it would enable next targets located at 93.83 (S2) and 93.69 (S3).
Resistance Levels: 94.27, 94.42, 94.58
Support Levels: 93.98, 93.83, 93.69
« Forex Technical & Market Analysis: March 27 2013 Forex Technical & Market Analysis: April 02 2013 »