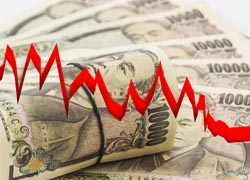 This news coming after Japan's Taro Aso, who is the Finance Minister, claimed that the yen had fallen too fast.
The yen dropped against all 31 peers with the exception of 1 this week before the country holds an election for the lower house coming up in December when Mr Abe who is Prime Minister, is looking for further economic stimulus. The 18 nation currency is set for a 2nd weekly gain, this before the President of the European Central Bank, Mario Draghi speaks at the congress today. A foreign exchange volatility gauge showed a 9 month high.
A currency strategist, Chief Kengo Suzuki at Mizuho Securities Co. said
I wouldn't have been surprised to hear comments like those made by Also earlier. They would act as a floor for the yen. We could see a correction in dollar-yen down to around 115.
The Japanese currency climbed 0.3 percent all the way to 117.84 per dollar at 2:18 pm, Tokyo time, this after it tumbled to 118.98 yesterday which is the lowest since back in 2007 August. The yen dropped more than 9 percent since back in October the 17th, making it the most rapid 5 week drop since back in 1995 September. The yen grew 0.2 percent to 147.93 per euro. The euro currency rose 0.1 percent to $1.2554.
The huge global foreign exchange measuring volatility, JPMorgan Chase & Co's Index touched 8.92 percent yesterday that was the most since 4th of February after it reached a new low of 5.28 percent earlier in July.
« Among likely Elections victory for Abe, the yen falls to 7 year low Euro nearing 2 year low »