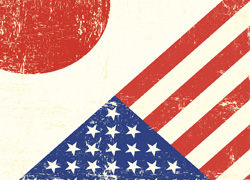 For 1st time in 4 days the Yen went up versus the greenback while the Stocks in Asia dropped and traders fought back estimations for when the Federal Reserve would be increasing interest rates.
The Yen climbed against all it 16 peers as a bigger need for haven assets were increased as the Nikkei 225 Stock Average fell 2.3 percent. Both the Aussie and Kiwi dollar climbed after factory output in China and growth in the economy expanded more than was predicted by analysts. The Won from South Korea strengthened the most this month.
The strategist of currency in Sydney at Westpac Banking Corp.,Sean Callow said:
The weakness in dollar-yen is correlating very closely with the decline in the Nikkei. A lot of it gets back to the market still being lopsided, the speculative market having been long dollar-yen in an environment where the risks on U.S. data surprises are tilted to the downside.
The Japanese currency grew 0.6 percent to 106.30 per dollar as of 6:02 am London time after it had weakened 1 percent during the last 3 days. The Yen saw a gain of 0.4 percent to 136.33 per euro. The dollar dropped 0.2 percent to $1.2824 per euro.
The Japanese currency gained 3.8 percent over the last month making it the best of 10 developed -nation's currency in terms of performance it was shown by an index as evident global growth is slowing down the need for more safe assets. The greenback climbed 0.9 percent and the euro saw a gain of 0.8 percent.
« Pension fund reports fuel a 3 day drop to the Yen After a further fall, the Euro stays down »