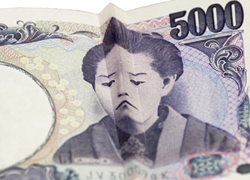 Against the dollar the yen fell for its 3rd day after reports on speculations of pension funds in Japan getting closer to a boost to its holding of international assets and stocks.
The Yen dropped at least 0.4 percent against all its 16 peers as it was said by the Nikkei newspaper that $1.2 trillion Pension Investment Fund by the government would raise the target for foreign shares and bonds to about 30 percent from its prior 23 percent. The Aussie dollar jumped just after a government official of the government said that the Central Bank has been in plans to push funding into some of its lenders indicating that the South Pacific's big trading partner are increasing stimulus. The won from South Korea climbed the most in over a week as its equities ascended across the board.
One of the senior currency strategists at the New Zealand ANZ Bank that was talking of the GPIF said the following:
The fact that they've put numbers on the reallocation implies that they're closer to implementing it and the flows actually occurring. Markets will be looking at those flows as supportive for equity markets and outflows from Japan, which would both be negative for the yen based on current correlations.
The Japanese currency dropped 0.5 percent yesterday to 107.36 per dollar at 1:09 pm Tokyo time after it dropped 0.9 percent over the last 2 days. The yen slid 0.4 percent to 136.97 per euro. The dollar remained unfazed at $1.2758 per euro.
The Japanese Topix index monitoring shares went up the most in over a year just after the Nikkei made mention in a report on the 18th of October that the GPIF would reduce holdings of bonds that were local to circa 40 percent from its previous 60 percent without any referral of the source of its information.
« Currency volatility 8 month high spurred by Ebola spread Yen climbs in contrast to dropping Asian stocks »