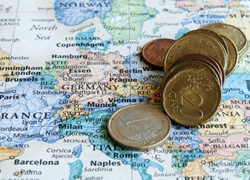 So it continued, a low euro, with a forecast tomorrow by a purchasing manager's index that will show a tapered manufacturing in the EU for the 1st time in over sixteen months further fuelling a case for stimulus.
The Euro dropped the most yesterday in a week as the hedge fund manager billionaire David Tepper mentioned that investors are best off selling because of the policies of the European Central Bank's policies. The Kiwi resisted any declines as data was showing annual consumer price improvement started to slow down as was forecast by economists. The greenback remained steady during the week versus its main counterparts before a report that might show that consumer prices levelled in September just after dropping in prior months.
Currency strategist in Sydney at the Commonwealth Bank of Australia, Joseph Capurso said,
The risks to the PMIs is for more disappointment and I can see the euro heading back down again. The euro may find support around the $1.26 level.
The European currency was at $1.2726 at 6:37 am London time just after it fell 0.7 percent yesterday to $1.2716 making it the biggest fall since October the 14th. It remained unchanged at 136.16 yen after it slid 0.6 percent yesterday. The greenback bought 107 yen when it climbed 0.1 percent over the prior 2 days.
A Spot Index monitoring the dollar versus 10 major peers was hardly changed at 1,064.00.
« Yen climbs in contrast to dropping Asian stocks Strengthening of the U.S. currency »