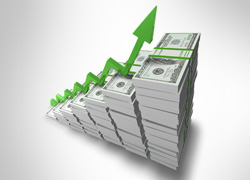 The greenback strengthened when two huge bond investors mentioned that they were expecting it to continue its best rally in 6 years.
The investors said that they were both bullish. The kiwi saw a decline versus the greenback earlier dropping as much as 1.2 percent after a report by the government revealed that inflation in the South Pacific was much slower.
Gundlach which is one of the big investors at the ETF.com Conference yesterday said;
The dollar is the place to be. It's a no-brainer for investors of Germany and Spain to put their money into U.S. Treasury securities.
The Australian dollar weakened 0.9 percent to 78.57 U.S cents at 1:55 Tokyo time making it the largest 1 day drops since October the 3rd. The Inflation rate for the annum of New Zealand dropped to 1 percent in the 3rd quarter from 1.6 percent in the last 3 months increasing assumptions that policy makers will be slow in raising of the interest rates.
An index monitoring the dollar versus 10 other peers saw a climb of 0.1 percent today to 1,068.24 now increasing this year's surge forward to 4.8 percent which is the greatest since 2008. The greenback rose 0.1 percent to $1.2638 per euro.
Mr Gundlach mentioned that he was confident that the dollar would overtake its 2009 all-time high when it rose to its strongest point since back in 2004.
« After a further fall, the Euro stays down The Japanese currency strengthens »