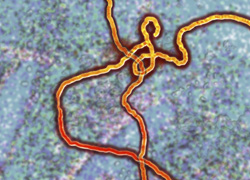 For 1st time in seven days the Yen went up against the dollar in the wake of the news of a doctor from New York testing positive to Ebola, this increasing the demand for safer assets.
The yen rose versus 16 peers with the exception of 2 as news of the Ebola in New York was heard. There was a surge in the Treasuries while in Standard & Poor's 500 Index shares dropped. A monitor of the greenback fell from its 2 week high.
In Singapore, the Asia-Pacifica Royal Bank of Scotland Group market strategist Greg Gibbs said;
We're seeing a fall in equity futures and dollar-yen on fears of a potential pandemic. There is a bubbling fear percolating in the background. Ebola is certainly on the market's radar.
The Japanese currency climbed 0.2 percent to 108.02 for each dollar at 6:31 London time, just afterward it slid 108.35 which was the weakest point since October the 8th. The yen rose 0.1 percent to 136.73 per euro. The greenback dropped 0.1 percent to $1.2656 per euro.
News on the Ebola case is that the doctor from New York is in isolation and is being treated in the Manhattan Hospital Centre. Further confirmation is being conducted.
A spot index monitoring the American currency versus 10 peers saw a fall of 0.1 percent to 1,068.75 just after it climbed 1,070.57 which was the highest since October the 7th.
« Strengthening of the U.S. currency Worries were laid to rest after ECB stress tests, spurring on the Euro »