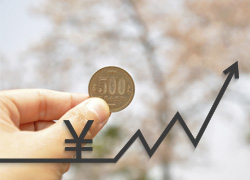 Now at it's strongest after 4 weeks versus the dollar while the Asian stocks decline amid concerns that global growth is slowing down this in turn boosting the demand for Japanese haven assets.
The Japanese currency strengthened versus all with the exception of 2 of 16 major peers as a gauge of shares in Asia that does not include the Yen extended a 5 week low. The U.S. declined just after the Federal Reserve officials said a global slowdown may hamper American interest rate increases. The Aussie climbed from a near 4 year low as china reported a better that expected export development and an unexpected improvements in imports. China's currency gained as the central bank raised the yuan's reference rate.
It was said by a markets strategist at Westpac Banking Corp in Auckland
Sentiment will be the big driver and I think we'll get a carryover from the negative sentiment last week. The yen should benefit from that.
The Japanese currency climbed 0.4 percent to 107.20 per dollar at 6:47 London time after climbing to 107.06 which is the strongest level since September 16th. The Yen hardly moved at 135.93 per euro after it reached 135.55, the highest since Nov the 21st. The dollar dropped 0.4 percent to $1.2680 per euro.
It's a public holiday for U.S and Japan so finance markets are shut today. A thin liquidity might increase the volatility in the foreign exchange trade is was said by Joseph Capurso who is a currency strategist at the Common wealth Bank of Australia.
« The Yen is poised for weekly gains as concerns over global growth increase Dollar finally up from its 1 month low against the Yen »