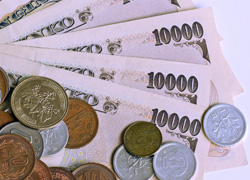 Japans currency is set for its 1st week in gains against the greenback since back in August while stocks are declining and there are signs that the global economy is slowing down and this is in turn boosting demands for assets that are a haven.
The yen rising this week against all but 2 of its 16 major counterparts as Mario Draghi, President of Central Bank said that there were signs the economy in the region is slowing down. The Aussie falling for a 2nd day after a report by the government showed that home loans saw a unexpected decline back in August. The won of South Korea went up.
The global co-head of currency strategy in Sydney at its National Australia Bank Ltd said
People have decided that the reason the Fed might be lower for longer on rates is because the global economy is slowing and equities have dumped on that. The yen is still the pre-eminent safe-haven currency.
The Japanese currency was unfazed at 107.74 per dollar at 7:01 am London time, having climbed 1.9 percent this week making it the 1st gain since back in August the 8th. The yen was at 136.91 per euro from 136.85 from yesterday. The euro climbed 0.1 percent to $1.2704 after it dropped 0.3 percent yesterday.
Mario Draghi assured an expansion to stimulation measures if required to address the risk of a too long a period of low inflation he mentioned at the Brookings Institution in Washington yesterday. The economy in the euro is stagnating in the 2nd quarter while the ECB forecasts at most an average growth for the rest of year ahead.
« Two week low for the dollar; Aussie climbs Yen at a 4 week high. Australian dollar strengthens. »