Yesterday the Eurozone (and more specifically Spain) finally received some positive news on the dire unemployment situation which has disproportionately hammered Spain's youth employment prospects. To describe the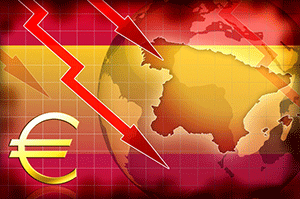 news that unemployment had stopped rising, and conducted a hand brake turn that a stunt driver in Fast & Furious 6 would be proud of, would be an understatement. The figures were spectacular, in
a healthy sense. Spain's registered unemployed fell by just over 98,000 month on month, a 1.97% decline. This is the largest decrease for May on record courtesy of Spain's official government department – ServicioPúblico d
Before we get too carried away let's recognise that the situation is still dire; up to 54% youth unemployment and circa 27% overall unemployment are shocking statistics, but the belief is that perhaps a 'floor' has been put under these numbers and whilst the crawl out of this desperate hole could take up a generation to complete a cycle, we may finally be witnessing Spain turn the corner, which in turn could be an optimistic portent for the rest of the PIIGS in the Eurozone.e EmpleoEstatal.
Open a FREE Forex Demo Account Now To Practice
Forex Trading In A Real-live Trading & No-risk Environment!
Naturally analysts will suggest that the drop in unemployment will be due to the annual rise in jobs associated with tourism and they'd be partly right, but Spain also experienced positive news recently in the form of exports.
In 2012 Spain produced record export numbers and for those amongst us who look for the most basic form of economic data to predict where an economy may be headed, an export led drive out of economic misery couldn't be more 'text book' if written by illuminates such as Hayek and or Keynes. Spain's exports rose to a record €223 billion in 2012, whilst orders dried up at home and tourism suffered. Construction also plummeted; the "build it and they will come and pay increasingly more euros for two bedroom flats built anywhere and everywhere", finally ceased as an economic model to prosperity. So whisper it quietly, but many in positions of authority in the ECB and EU are beginning to unravel their crushed up paper speeches, found at the back of their desk drawers penned in 2012, suggesting austerity might work after all. The "painful" reforms undertaken by debt-strapped countries "are starting to bear fruit," European Central Bank President Mario Draghi said in a May 23 speech in London. It's visible in "the impressive improvement in export performance in Ireland, Spain and Portugal".
Spain's budget deficit is still, at 10.2% of GDP, three times the EU loose target, therefore it's far too early to hang out the bunting and order afternoon siestas all round, but let's not ignore what could be signs that Spain is in fact recovering…just.
« Morning Roll Call, Between The Lines Don't Trade The News, Trade The Reaction to The News »