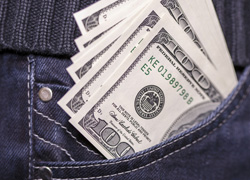 The U.S. made a comeback after its 3 day dip against the yen only just before an American report that some of their economists say there has been an increase in employment in the last 3 months.
An index forecast a 7 weekly gain making it the longest run since back in June 2010 as American data added to speculation that the Federal Reserve will be rising the interest rates early next year. The yen saw a fall against all with the exception of one of its 16 major counterparts as the bank of Japan gave a boost to its bill purchases and was said by Governor Haruhiko Kuroda that a weakening currency would probably not hurt the economy. The kiwi saw a decline.
A senior currency strategist, Sam Tuck at ANZ Bank of New Zealand Ltd said the following:
The outlook for the U.S. dollar is still positive and any payrolls induced weakness would be a buying opportunity. New Zealand's dollar is declining due to a broadly firmer U.S. dollar and some position adjustment after the large gains yesterday.
The U.S. currency saw a rise of 0.5 percent to 108.91 yen at 6:52 am London time after falling 1.1 percent over the past 2 sessions. The dollar gaining 0.2 to $1.2649 just after climbing to $1.2571 on September the 30th which is the strongest since back in September 2012. A fall of 0.3 by the yen to 137.78 per euro by the yen was observed.
An index tracking the dollar beside 10 major peers saw a climb of 0.1 percent to 1,068.94. The gauge has since advanced 0.2 percent during the week.
« Dollar takes a dip, among observation that it had risen too quickly Despite debate on fed rate increase timing, the dollar drops »