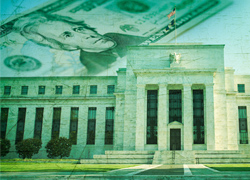 The dollar saw a drop pushing the gauge of its strength down to a 4 year high among debates to when the Federal Reserve would raise interest rates just after a report of job gains last week showed gains had beaten forecasts by economists.
The dollar weakened against most of the higher-yielding currencies. The biggest fall was against the South African and the Mexican Peso. The yen saw a jump from its almost lowest point since 2008 a little ahead of the Bank of Japan's decision soon to be taken. The european currency strengthened against the dollar, 3 days after it touched a 2 year low despite German data showing a drop in factory orders which was the most since back in August 2009.
At an interview with Valentin Marinov who is the Head of European Group-of-10 currency strategy of the Citigroup Inc.'s which is London based, said
The market will want to reassess the speed with which the Fed will be moving from here. On The Move. Overall the Fed is moving towards the exit, will be hiking rates before long, and that should, over the longer term, continue to support the dollar.
The U.S. spot index falling 0.3 percent to 1,075.57 at 9:46 am in London having just touched 1080.05 on October the 3rd which is the highest intraday level for a while, more specifically 2010 June.
The dollar fell 0.2 percent to $1.2541 per euro after it touched $1.2501 on October the 3rd which was the strongest since back in August 2012. The common currency of 18 members was unfazed at 137.26 yen. The Japanese currency strengthened 0.3 percent to 109.43 per dollar after reaching 110.09 on October the 1st which is the weakest since 2008 August.
Factory orders for Germany adjusted for seasonal swings and inflation, saw a fall of 5.7 percent back in August just after it climbed a revised 4.9 percent back in July it was said by the Economy Ministry in the capital. There was a prediction by analysts of a drop of 2.5 percent.
« The greenback on the rise in the wake of job growth quickening As the Central Bank highlights policy gaps the dollar strengthens »