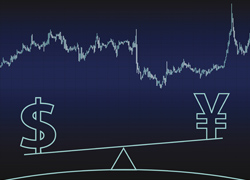 The Japanese currency fell to its 7 year low against the U.S. currency when Shinzo Abe, Japan's Prime Minister, asked for an earlier election and adjourned a prearranged sales tax hike.
The Japanese currency fell versus its 16 counterparts this after the Bank of Japan kept unprecedented stimulus as Mr Shinzo goes into preparations to dissolve parliament. A spot index came closer to its highest in over 5 years, this just before the Federal Reserve discharges minutes of the previous month's meeting. The Kiwi dollar finished its 6 days of gain, when the Fonterra Cooperative Group Ltd that is based in Auckland, claimed that its price for powdered milk had fallen.
A head at Sumitomo Mitsui Banking Corp., a foreign-exchange trading group in Tokyo, Shinji Kureda said:
The yen's weakening trend remains intact. Should Abe's coalition fail to retain a majority in the election, that would damp dollar-yen's ascent, but the government should be able to clear such an easy challenge.
The Japanese currency slipped 0.2 percent to 146.74 per euro this after it dropped to 146.80 which is the most since 2008 October. The euro dropped 0.2 percent to $1.2515.
A quota used to establish option prices, as well as to measure the probable pace of swings of the U.S. currency versus the Japanese currency, climbed to its maximum of 14 months. This signals volatility for 1 month options of the dollar against the yen, that touched 12.28 percent, making it the most since back in 2013 September.
« The Yen continues to near 7 year low Among likely Elections victory for Abe, the yen falls to 7 year low »