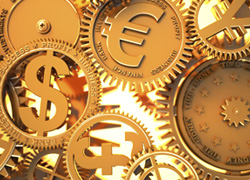 The pound advances against the dollar as voting started on the future of Scotland.
The sterling strengthening against most of the 16 major peers as suggestions of a tight outcome to the vote. Gauges predicting the future price is swinging to the U.K. currency it has been felt as investors try to understand the implications of a possible "yes" vote, while options of the pound versus the euro were at their most bearish yesterday since back in 2008. It was reported today the U.K. retail sales has risen in August, as suggested to the median forecast of economists.
The pound gaining 0.1 percent to $1.6288 at 7:57 a.m. London time just after it climbed to $1.6358 yesterday, the highest since 2 weeks back. The U.K. currency not seeing much change at 79.09 pence per euro after an appreciation to 78.81 pence which was the strongest since July 23.
The Pound getting stronger by 0.6 percent in the last month according to a correlation-weighted indexes that follow 10 currencies of developed nations. The euro dropping 0.5 percent all the while the dollar strengthened by 3.6 percent.
« A final appeal for Victory by the Scots independence Campaign In response to plunging Yen the Pound jumps with Index Futures on Scotland »