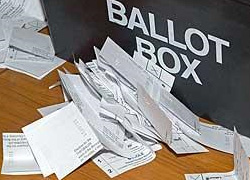 The pound saw its biggest 2 day jump in 7 months, the European and the U.K. share-index futures headed for a rise and the treasuries fell as the vote for Scotland's independence was rejected. The yen climbed while Japans equities and U.S. stock-gauge futures jumped up.
The pound gaining 0.4 percent to $1.6466 by 7:08 am in London, furthering its 2 day advance to 1.2 percent as well as the FTSE 100 Index futures adding an extra 1.1 percent. The Euro Stoxx 50 Index futures also saw a rise of 1.2 percent. As for the 10 year Treasuries the yield climbed 4 basis points and 0.3 percent was gained by the S&P 500 contracts in the wake of yet another record in New York. The yen fell through 109 per dollar to see trading at its lowest since back in August 2008. A rise in bonds for Malaysia was noted after the central bank held rates. Wheat hitting its lowest since 4 years back.
55 percent was the final vote by the "No" camp defeating Scotland's rally for independence. First Minister Alex Salmond acknowledged the defeat. A staggering $145 billion was added to the global equities value yesterday as the U.S. jobless data managed to beat the estimates a whole day after the Federal Reserve made the pledge to keep rates near zero for as long as possible after ending bond purchases. A huge $21.8 billion of selling shares were raised by Alibaba Group Holding Ltd. (BABA) in yet the biggest U.S. initial public offering.
It was felt that the Scottish vote was a relief by Hans Goetti who is the Singapore based head of investment for Asia at the Banque Internationale that has $40 billion in assets. It's believed that the factor of instability has been removed which is thought to be beneficial for the market. The British pound is sitting in huge contrast to its lows.
« Pound strengthens against the dollar as Scotland independence voting starts Yen threatens Japan with a recession »