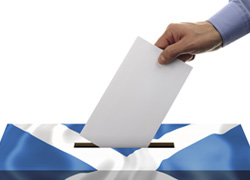 The final day of the campaign over Scotland's future with the pro-independence campaigners saying that it had the momentum to claim victory in the ballots and the "no" side trying to get voters not to use it as a protest.
In an interesting last survey, it showed that the gab was closing fast was the revelations after last night's three polls showing the anti-independence Better Together group that is backed by Prime Minister David Cameron and the main U.K. parties leading the "yes" campaign by 52 percent to 48 percent this excluding undecided voters.
The last 24 hours will see Alex Salmond the Scottish First Minister to make his final appeal to voters to push for independence in an attempt to snatch victory. The "no" campaign were preparing to canvass hard by visiting late shift workers in print works and hospitals.
A professor of politics at Strathclyde University in Glasgow, John Curtice quoting "It is very tight", and further saying
It looks as if the 'yes' campaign is going to fall agonizingly short from their perspective. But I have always said this is the 'no' campaign's to lose and it certainly looks as if they have got pretty close to that.
Both will be rallying in Glasgow today before Salmond addresses an audience in Perth, central Scotland.
« Barclays accused of hiding traders role Pound strengthens against the dollar as Scotland independence voting starts »