Trading is all about earning the most profits possible. Many strategies have been developed for that purpose. The 10 pips a day strategy allows you to earn little by little but continuously since it takes time to earn every pip. If you have ever wondered how to win 10 pips a day, you have come to the right place!
To achieve the objective, the strategy involves making many small entries in a short time frame. For example, you can make a stable profit if you set a profit of 10 pips per day.
The idea behind the 10 pips
The 10 pips a day Forex trading strategy is based on the same concept as the 20 pips a day strategy:
Most currency pairs in the Forex market move more than 100 pips per day, but none of us can capture the whole of this rate movement unless we are time travelers. So we might as well grab a little piece of the action and aim for 10 pips.
After you reach 10 pips profit per day, you stop trading. The next day, you'll trade again and aim for a 10 pips profit. Once you reach your target, you'll stop trading, and the process continues every day.
Timeframes for the 10 pips a day
Ideally, timeframes should be:
Tradable currency pairs
Trading currency pairs with wide spreads are generally not a good idea. Stick with low spreads between 1-2 pips. The best pairs to trade are:
GBPUSD
USDJPY
AUDUSD
EURUSD
USDCHF
Required forex indicators
Here are three indicators to consider:
Sell trade setup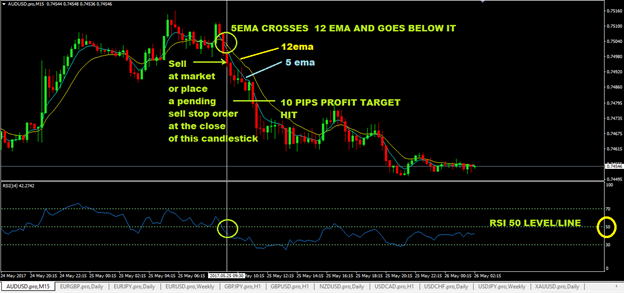 An example of a 10-pip per day sell trade setup can be seen in the following 15-minute chart of the AUDUSD:
The 5 EMA crosses the 12 EMA and goes down.
After that, check if the relative strength index indicator (RSI) has crossed below the 50 mark.
Sell immediately at the market or place a pending sell stop order 2-3 pips below the candlestick low if the candlestick is below the low of the 5-EMA and 12-EMA cross over.
Overlay your stop loss above the high of the previous candlestick.
As you know, the take profit target is 10 pips.
Pros
It is an easy-to-use Forex trading strategy with an EMA crossover strategy that uses RSI to measure the strength of a trend.
If there is an upward trend, a profit target of 10 pips is relatively easy to hit.
As soon as you have hit your 10 pips profit for the day, you can stop trading.
Cons
You have to sacrifice bigger profits if you only plan to make 10 pips profit.
Sometimes the distances between stop losses are very short, which causes you to be stopped out very quickly.
Compared with other systems, this one has an unfavorable risk/reward ratio.
Bottom line
Some Forex traders believe that by making 10 pips every day, they can make a lot of money. However, when you apply compound interest, you can become a forex millionaire across the board. That's not how it works, mostly. If you are willing to trade by using this strategy, you can only trade 10 pips in a day, even if you are getting more. So sticking to this strategy is somehow difficult for most of us, right?
« Does tick volume matter for forex traders? How to Use Average Daily Range in Forex Trading? »