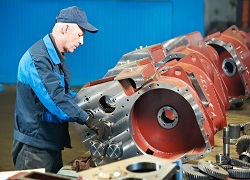 Despite the fact that London and USA markets were closed on Monday, European equities enjoyed solid gains on the strength of solid PMI manufacturing data, which came in ahead of the analysts' polled predictions. Notwithstanding the encouraging individual national PMI readings, the overall Eurozone area manufacturing expanded in December, at the fastest rate recorded since April 2011, providing confidence to investors that the single currency bloc's recovery has now developed solid foundations, as we head into 2017.
The Markit Economics purchasing and manufacturing indices are regarded as "leading", as opposed to "lagging" economic indicators. Therefore, as predictors of future performance, the data readings are keenly watched, by both analysts and investors alike. Readings above 50 signal expansion, below 50 signals contraction. Big misses from estimates (or reversions) often cause volatility and price fluctuations.
Italy's manufacturing PMI perhaps provided the biggest surprise and boost for Euro zone manufacturing. In an economy and wider society, which still has to navigate through the issues regarding the Italian banking system's recapitalisation and rescue needs, the news that their manufacturing base is expanding should provide justification for the Italian government, the ECB and indeed bondholders and investors, that Italy's economy can steer itself away from the rocks.
Data from Markit economics revealed that Italy's manufacturing PMI rose to 53.2 for December, from 52.2 in November, with economists expecting a reading of 52.3. For Germany the Markit data report showed manufacturing PMI reached 55.6 in December, this represented the highest reading witnessed since January 2014.
In European markets on Monday the STOXX 50 closed up 0.63%, DAX up 1.02%, MIB up 1.73% and the CAC up 0.41%. The USA dollar recovered from a two week low versus a basket of six major currencies on Monday, despite trading remaining thin as several markets remained closed for the New Year. On Monday EUR/USD fell by up to 0.6% at one point to $1.0513, despite the strong manufacturing data for the Eurozone area, whilst the dollar index climbed by half a percent to 102.68, closing in on the fourteen year high of 103.65 reached on Dec. 30th. However, USD/JPY had risen by circa 0.2% to 117.35, early in the Asian session on Tuesday morning, after yen rising versus the dollar by 0.5% on Monday. GBP/USD slipped marginally by circa 0.2% to $1.2299 in thin trading conditions, with very little in the way of UK data available.
Economic calendar events for January 3rd 2017. All times quoted are London times.
08:55, currency effected EUR. German Unemployment Change. The anticipation is for Germany to have experienced a reduction of -5k on the headline unemployment count, matching a similar fall experienced in November.
08:55, currency effected EUR. German Unemployment Rate (seasonally adjusted). The expectation from the analysts' polled, is for Germany's headline unemployment rate to remain steadfast at 6.0%, with no change from the previous reading of 6.0%.
09:30, currency effected GBP. Markit UK PMI Manufacturing. The prediction is for a modest fall in the UK's PMI manufacturing reading, down to 53.3, from 53.4 in November. Naturally, given the ongoing and unresolved Brexit issues, analysts and investors will be watching this reading carefully, to ascertain if the referendum indecision has impacted negatively on investment and commitment in manufacturing. The falling value of the UK's pound, versus the USA dollar and euro, may have also effect manufacturing performance, albeit it in a positive manner initially, until the increased import costs of raw materials and parts effects the price of goods to be exported from the UK.
13:00, currency effected EUR. German Consumer Price Index (YoY). The anticipation is for annual German inflation to have picked up markedly in December, a reading of 1.4% is expected, a jump from the reading of 0.8% previously.
15:00, currency effected USD. ISM Manufacturing (DEC). The ISM data on manufacturing is one of the most keenly watched and respected manufacturing reports published in the USA. The prediction is for a slight rise to 53.7, from 53.2 in November.
« MORNING ROLL CALL The Dollar reaches a 14 year high versus the euro, whilst a European market technically enters a bull market. »