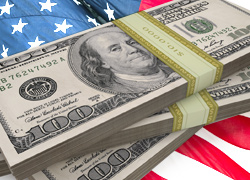 The dollar continues its biggest gain in over 16 months, this just before a report by the U.S. government showed that employers added more jobs than the yearly average in October.
The American currency is set for its highest point against the Yen in an unprecedented 7 year high this after Hauhiko Kuroda Governor of the Bank of Japan claimed the bank would keep the ongoing stimulation as long as necessary. The European currency was set for its 3rd weekly fall, this just after Mario Draghi who is president of the ECB strengthened his resolve to stimulation. The sterling pound as well as the kiwi and Australian dollar all dropped to their lowest in over 13 months against the U.S. currency today.
Takeru Kurokawa who is an analyst at Ueda Harlow Ltd., Tokyo said the following;
Should we see a positive payrolls report in line with our forecast, the dollar should rise. We could see dollar climb toward 117 yen.
A Spot index tracking the dollar versus 10 other counterparts was unfazed at 1,098.32 at 6:53 am London time after it went up 1.6 percent earlier this week which is the most it's done since back on the 21st of June, 2013 when the period ended.
The American currency went up 0.1 percent to 115.37 yen when it had appreciated to 115.52 yesterday which was the strongest point since 2007 November. The European currency climbed 0.1 percent to $1.2384 when before it had slipped 1.1 percent earlier this week. The Japanese currency fell 0.2 percent to 142.88 per euro.
« Yen continues 7 year low 2nd day consecutive weakening of the dollar »