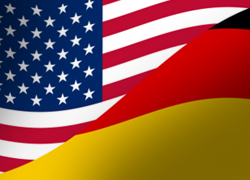 The greenback climbed for a 2nd day as the American economy shows its contrast with that of Germany that faces a possible recession.
A spot Index which follows the dollar versus 10 other currencies saw a rise before the Federal Reserve releases its so called Beige Book about global economic conditions. There was a drop in the euro value ahead of a much anticipated speech by Mario Draghi who is the European Central Bank President. The Sterling showing the slowest United Kingdom inflation in 5 years touched an 11 month low. In China the consumer price gains came to a slow down while its currency saw a drop as its everyday fixing was cut.
It was said by Stan Shamu, a markets strategist at IG Australia in Melbourne that is a sub unit of the IG Group Holdings Plc;
The U.S. is in a much better place compared to its peers. The U.S. dollar will ultimately benefit.
There was a rise in the index of 0.1 percent to 1,069.17 as of 6:48 am London time when yesterday it advanced 0.3 percent. The greenback climbed 0.2 percent to $1.2639 per euro that added 0.7 percent making it the strongest gain since back in October the 3rd. The dollar rose 0.3 percent to 107.34 yen. The euro wan unchanged at 135.67 yen.
The American economy is expected to grow 2.2 percent this year and a plausible 3 percent by next year some surveys expect. The Eurozone some surveys predict, will grow by 0.8 percent and 1.3 percent and as for Japan, it is forecast a 1 percent and 1.2 percent gain this year.
« Dollar finally up from its 1 month low against the Yen Dollar at risk of dropping against the Yen »