The week's significant economic calendar events begins on Monday April 29th, with a speech delivered by the Bank of England Governor Mark Carney, at 9:10am U.K. time in London. He'll most likely cover the fact that U.K. GDP is holding up well, combined with the majority of key economic metrics printing positive figures, despite the Brexit debacle, which has dragged on past the original exit date of March 29th. He may also cover the BoE's monetary policy, which could be labelled "benign" at the moment; neither dovish or hawkish, due to the Brexit situation being unresolved. Sterling may come under increasing focus and speculation during the delivery of his speech. At 10:00am U.K. time, a series of soft data confidence readings for the Eurozone will be released, which could impact on the value of EUR, if the Reuters forecasts miss or beat the estimates, by any distance.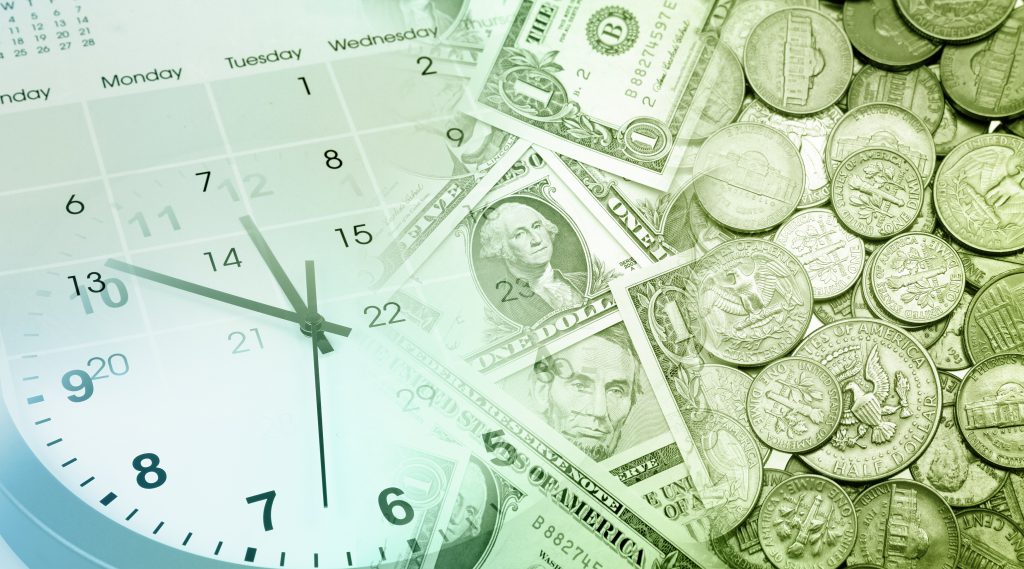 At 13:30pm U.K. time, a series of data relating to the USA economy will be released, concerning personal spending and income for March. The key observation is the core, year on year, PCE metric, forecast to come in at 1.70%. The value of USD could be affected, depending on the figures printed. The Dallas manufacturing activity reading will be published at 15:30pm, expected to show an improvement to 10.0 in April, from 8.3.
Tuesday will be an extremely busy day for economic calendar releases, beginning with Chinese PMIs released at 2:00am U.K. time, which could not only determine the short term value of yuan, but also set the tone for equity indices globally, as markets open throughout the day's sessions. From 2:00-2:30am a series of data relating to the Australian and New Zealand economy, could impact on the value of AUD and NZD.
European data delivery begins at 6:00am, with France's latest GDP reading forecast to come in at 0.3% for Q1 2019, rising to 1.1% year on year. German data will include import prices which are forecast to rise, unemployment which is forecast to remain unchanged, May's GfK confidence reading, expected to fall marginally to 10.3 and CPI, anticipated to register a rise to 1.5% YoY up to April. Any significant deviation from these forecasts could impact on the value of EUR. As could the latest E.Z. unemployment rate, predicted to print at 7.8%. Italian GDP is forecast to return into technical recessionary territory, with a reading of -0.1% year on year for Q1.
At 13:30pm U.K. time the latest Canadian GDP figures will be published, Reuters forecast a reading of 0.00% month on month for February, with a fall to 1.4% year on year, from 1.6%. Results that could take FX market participants off guard and impact on the value of CAD if met. Representatives of the BOC will deliver a speech on the Canadian economy at 16:00pm.
From the USA a slew of data will be published including: Case Shiller house price data; the main 20 city composite metric is predicted to show a fall to 3.1% YoY in February, from 3.6%. At 15:00pm pending home sales are forecast to reveal a modest improvement, whilst the conference board consumer confidence reading is expected to come in at 126.5 for April, from 124.1 in March. Late evening a raft of employment, wage and unemployment data, concerning the New Zealand economy, could impact on the value of the kiwi versus its peers, when released at 23:45pm U.K. time.
The economic calendar events for Wednesday begins with the latest house price data from the U.K. lender Nationwide at 7:00am U.K. time, Reuters forecast a fall to 0.1% for April, with the YoY rise at 0.7%. U.K. calendar news continues at 10:00am, with consumer credit and mortgage approval details. Thereafter, focus in the afternoon session turns to USA data, when various ISM readings are printed at 15:00pm. The most outstanding ISM reading anticipated, is for manufacturing, forecast to fall marginally to 55 for April.
One of the highlights of the day involves the latest FOMC/Fed decision on U.S. interest rates; the key headline upper-bound rate, is widely predicted to remain unchanged at 2.5%, when the decision is revealed at 19:00pm U.K. time. However, with a no change decision it's always the commentary delivered by, for example, Jerome Powell the Fed chair, conducted half an hour later, which can impact on the value of USD and various U.S. equity markets.
Thursday's calendar events begins with the latest German retail figures at 7:00am U.K. time, forecast to reveal sharp falls; down from 4.7% to 2.9% YoY in March. Various PMIs for European countries will be published from 7:30am to 9:00am, including the Eurozone's overall manufacturing reading. The U.K. construction PMI will also be broadcast and at 12:00pm U.K. time the Bank of England will reveal its base interest rate decision, expected to remain at 0.75%. Naturally, focus will also turn to any narrative delivered in the scheduled press conference, held shortly after the decision is broadcast.
The focus on USA calendar news begins with the latest challenger jobs cuts, the first of the weekly employment/unemployment related data, culminating in the latest NFP readings, which will be published on Friday. The Challenger jobs cuts at 12:30pm reveal how many jobs have been cut from major firms in the USA. Weekly jobless and continuous claims in the USA are forecast to have reduced. Durable goods orders and factory orders data will be revealed at 15:00pm, factory orders are forecast to show a significant improvement, up by 1.4% in March from -0.5%, a reading which (if met) could positively impact on the value of USD.
The calendar events for Friday, begin with Swiss CPI, published at 7:30am, expected to come in at 0.2% MoM for April, falling from 0.5%, a forecast which could affect the value of CHF, if met. At 9:30am U.K. time both the services and composite Markit PMIs will be published, with the services being the most important PMI reading for the U.K. economy; any miss or beat of the forecast of 50.4, could cause a significant impact on the value of GBP. Eurozone data involves the latest CPI reading published at 10:00am, predicted in at 1.6% YoY for April, a rise from 1.4%. A reading which (if met) could cause EUR to rise, based on increased expectations that the ECB could modify their current dovish monetary policy.
At 13:30pm U.K. time focus turns to the USA as a slew of data will be published, the most prominent of which is the latest NFP numbers. Advanced goods trade balance, wholesale inventories, retail inventories, hours worked, weekly earnings, the latest unemployment rate, and the latest ISM non manufacturing reading will be published during the afternoon. The NFP jobs number is forecast in at 185k for April, falling from 196k in March. The cumulative effect of this significant publication of medium to high impact data, shouldn't be underestimated. Traders of FX and USA equity indices would be advised to remain hyper vigilant during Friday afternoon.
« If you're an FX trader, do you really understand the Game? Asian trading slows as Japan enters extended holiday, currency pairs trade in tight ranges as FX markets await first tranche of economic calendar data in a busy week. »