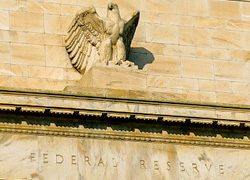 The greenback saw gains against its major peers just before the Federal Reserve was to release minutes of its prior meeting as investors considered the timing of 1st interest rate increase since back in 2006.
The japanese currency was close to a 1 month high against the euro just after the IMF cut the global growth prediction, in turn giving a boost for haven assets. The aussie dropped after its seasonal adjustment of jobs by the statistics bureau over the last 3 months. During the week the group-of-20 economies meeting between finance ministers will take place.
Analyst Junichi Ishikawa in Tokyo at IG Markets said,
If the Fed minutes today show discussions about specific timing of their interest-rate increase that would boost the likelihood that the next policy statement will alter the wording around keeping borrowing costs low for an extended period. That will spur dollar buying.
The dollar jumped 0.3 percent to $1.2630 per euro, 6:47 am London time just after it touched $1.2501 in October the 3rd which is the strongest it's been since back in 2012 August. It jumped 0.4 percent to 104.44 yen from yesterday after it fell 1.6 percent over the past 2 sessions. The yen not seeing much action at 136.96 per euro from yesterday after it touched 136.56 which is the strongest since the 8th September.
The big meeting on October 28th and 29th by the Fed is set to end its stimulation of bond purchases this month. There is a 45 percent chance it is shown by futures trading that the American central bank will be raising rates to 0.5 percent or even higher  by the last weeks of July. It has maintained the target rate in range of 0 to 0.25 percent since back in 2008 giving support to the economy.
The IMF said that there has been a 3.1 percent expansion of the U.S. economy as opposed to its prediction in July of 3 percent pace.
« As the Central Bank highlights policy gaps the dollar strengthens Two week low for the dollar; Aussie climbs »