Equity markets in the Asia-Pacific region mostly closed up on Wednesday morning following the rises on Wall Street on Tuesday, due to reports that trade negotiations between Beijing and Washington will restart next week. Bloomberg reported on Tuesday that Trump's U.S. representative Lighthizer is travelling to China on Monday July 29th for face-to-face trade talks with high level Chinese officials. At 8:45am U.K. time USD/JPY traded down -0.16% as yen rose versus its peers, despite the manufacturing PMI and the leading index for Japan both missing the Reuters targets.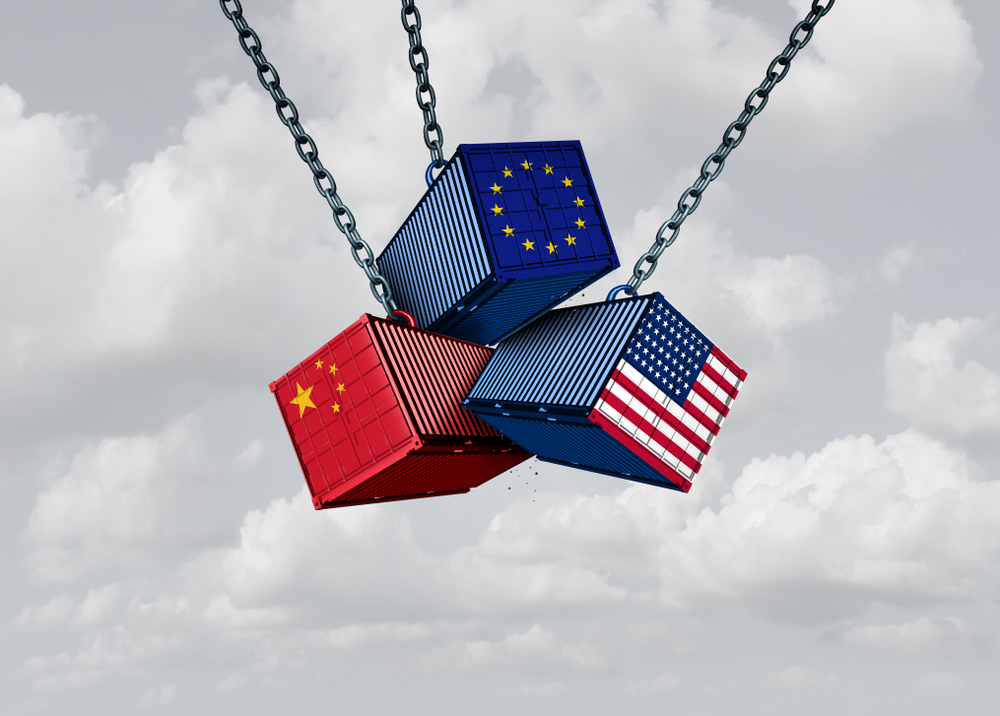 New Zealand's trade balance posted a healthy surplus of NZD 365 million in June 2019 compared to a NZD 285 million deficit printed in June 2018, Reuters and Bloomberg had predicted a NZD 100 million surplus. Exports from New Zealand rose 2.8% year-on-year as imports declined by 10.0%. The twelve month trade balance recorded a NZD 4.9 billion deficit, in contrast to the NZD 4.2 billion shortfall recorded a year earlier. Although the monthly trade surplus for June was arguably bullish for the N.Z. economy the kiwi dollar failed to respond as the majority of NZD currency peers traded in tight, daily ranges. At 8:55am NZD/USD traded down -0.03% at 0.669. AUD/USD fell sharply during the early stages of the Sydney session falling to the first level of support, S1, where it remained in the early stages of the London-European trading session, down -0.33% on the day.
The euro has continued its recent slump versus its peers which has occurred due to analysts' predictions that the ECB will announce forms of monetary policy easing when the ECB reveals its interest rate decisions on Thursday afternoon. Mario Draghi will hold a press conference after the announcement which FX analysts and traders will scrutinise closely for any forward guidance indicating an increase in central-bank stimulus.
Overall confidence in the single trading bloc and its currency was dented after the latest series of IHS Markit PMIs mostly missed the Reuters forecasts. France's manufacturing figure came in at 50 right on the line that separates growth from contraction. Germany's manufacturing PMI came in at 43.1 missing the estimate of 45.2 as the composite readings for: France, Germany and the Eurozone all fell sharply and missed forecasts by some distance. At 9:10am U.K. time EUR/USD traded down -0.11%, EUR/GBP down -0.30%, EUR/JPY down -0.31% and EUR/CHF close to flat.
Sterling rose versus several of its currency peers during the early hours of the London-European session, the rise owed more to the belief that the new Johnson administration will be less right-wing and wedded to the concept of a no-deal Brexit than previously thought, rather than any positive data for the U.K. economy increasing sentiment for GBP.
At 9:20am GBP/USD traded up 0.18% as price threatened to crawl back above the 1.2500 handle, trading at 1.245 and oscillating in a tight daily range close to the daily pivot-point. EUR/GBP slipped through the first level of support while GBP/CHF traded up 0.24% as price traded in a bullish pattern breaching the first level of resistance, R1. The U.K. FTSE 100 traded down during -0.53% at 9:30am partly as a consequence of the negative correlation with a GBP rise, but also due to overall economic concerns.
The futures markets for USA indices were indicating a negative open for New York this afternoon; the SPX future traded down -0.30% and the NASDAQ future down -0.43%. The PMIs for the USA may improve sentiment when they're published this afternoon, while the growth predicted for new home sales in the USA may counter the poor existing home sales data disclosed on Tuesday.
« Dollar index rises to five week high, sterling whipsaws after new P.M. is announced WTI oil rises Will the ECB announce more stimulus on Thursday afternoon as the interest rate decision is revealed? »