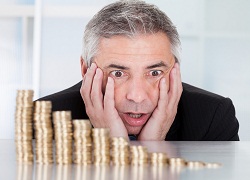 There was a raft of fascinating data courtesy of of the USA on Tuesday much of it negative. The Empire manufacturing index collapsed by 8 points to 4.5. Builder confidence collapsed by ten points to 46. Whilst consumer debt increased by a worrying amount, a truly jaw dropping $241 billion in the final quarter of 2013 as Americans attempted to borrow themselves out of the recession which many believe the USA is still in, despite the technicalities suggesting otherwise.
In other more macro USA news govt. debt was a debating point on Tuesday as the stake in Treasuries held by investors outside the U.S. grew by 1.4 percent or by $78 billion in December, this was the biggest monthly increase since November 2011, pushing foreign holdings of the debt to a record $5.79 trillion, according to Treasury data. Overseas investors held 48.8 percent of the $11.87 trillion in publicly tradable U.S. government debt outstanding at the end of 2013. China, the largest foreign lender to the U.S., reduced its position in Treasuries by $47.8 billion or 3.6 percent to $1.27 trillion, the largest decline since December 2011.
German ZEW Expectations Decline But Remain at a High Level
Economic Expectations for Germany have declined in February 2014. The ZEW Indicator of Economic Sentiment has decreased by 6.0 points and now stands at a level of 55.7 points (historical average: 24.5 points). The cautious expectations in this month's survey are likely to be caused by some uncertainties which came to the fore recently. Weak employment figures as well as some damped leading indicators have, for instance, caused concern in the US that the current economic upswing could lose momentum.
Empire State Manufacturing Survey
The February 2014 Empire State Manufacturing Survey indicates that business conditions improved marginally for New York manufacturers. The general business conditions index fell eight points, but remained positive at 4.5. The new orders index fell to about zero, indicating that orders were flat, and the shipments index declined thirteen points to 2.1. The unfilled orders index remained negative at -6.3. The prices paid index fell twelve points to 25.0, pointing to a slowing pace of input price increases, while the prices received index climbed two points to 15.0, suggesting a faster pace of selling price increases.
Poor Weather Puts a Damper on Builder Confidence in February
Unusually severe weather conditions across much of the nation along with continued concerns over the cost and availability of labor and lots resulted in builder confidence in the market for newly-built, single-family homes to post a 10-point drop to 46 on the National Association of Home Builders/Wells Fargo Housing Market Index (HMI), released today. "Significant weather conditions across most of the country led to a decline in buyer traffic last month," said NAHB Chairman Kevin Kelly, a home builder and developer from Wilmington.
Quarterly Report on Household Debt and Credit
Aggregate consumer debt increased in the fourth quarter by $241 billion, the largest quarter to quarter increase seen since the third quarter of 2007. As of December 31, 2013, total consumer indebtedness was $11.52 trillion, up by 2.1% from its level in the third quarter of 2013. The four quarters ending on December 31, 2013 were the first since late 2008 to register an increase ($180 billion or 1.6%) in total debt outstanding. Nonetheless, overall consumer debt remains 9.1% below its 2008Q3 peak of $12.68 trillion. Mortgages, the largest component of household debt, increased 1.9% during the fourth quarter of 2013.
Market overview at 10:30 PM UK time

The DJIA slipped to close down by 0.15% after a slew of poor data, the SPX closed up 0.12% wiry the NASDAQ up 0.68%. Euro STOXX closed down 0.05%, CAC down 0.10%, DAX up 0.03% with the UK FTSE up 0.90% due to encouraging inflation data.
The DJIA equity index future is down 0.12% at the time of writing (10:30 PM UK time Feb 18th) the SPX is up 0.13% and the NASDAQ future up 0.38%. Euro STOXX future is up 0.03%. DAX up 0.08%, CAC future down 0.09%, FTSE future up 1.09%.
NYMEX WTI oil finished the day up 2.84% at $103.15 per barrel, NYMEX nat gas up 6.90% at $5.57 per therm. COMEX gold closed the day up 0.27% at $1322.30 per ounce with silver up 2.47% at $21.95 per ounce.
Forex focus
The yen fell 0.4 percent to 102.34 per dollar mid-afternoon in New York after depreciating to 102.74, the weakest level since Jan. 31st. Japan's currency slid 0.8 percent to 140.80 per euro and reached 141.03, lowest since Jan. 29th. The dollar fell 0.4 percent to $1.3758 per euro and touched $1.377, weakest since Jan. 2nd. The Bloomberg Dollar Spot Index, which tracks the U.S. currency against 10 of its major counterparts, was little changed at 1,017.16. The yen slid to the weakest this month against the dollar and the euro after the Bank of Japan boosted its lending programs and said it will maintain monetary easing to stamp out deflation.
The yen has slumped by 5.8 percent in the past six months, the biggest decline after Canada's dollar among 10 developed-nation currencies tracked by Bloomberg Correlation-Weighted Indexes. The dollar has fallen by 0.7 percent, whilst the euro has gained 2.9 percent. Sterling has strengthened by 11 percent in the past year, the best performer of 10 developed-nation currencies tracked by Bloomberg Correlation-Weighted Indexes. The euro gained 5.8 percent and the dollar strengthened 2.3 percent.
The pound weakened 0.5 percent to 82.39 pence per euro late afternoon in London, the biggest decline since Feb. 3rd, after appreciating to 81.58 pence Monday, the strongest since January 2013. The U.K. currency fell 0.1 percent to $1.6695. The pound dropped the most in two weeks against the euro after U.K. inflation slowed below the Bank of England's target in January for the first time in more than four years.
Bonds briefing
The UK 10-year gilt yield dropped three basis points, or 0.03 percentage points, to 2.75 percent after falling to 2.73 percent, the lowest level since Feb. 11th. The 2.25 percent bond due in September 2023 rose 0.27, or 2.70 pounds per 1,000-pound face amount, to 95.835. Ten-year gilt yields dropped to the lowest level in a week amid optimism slowing inflation will preserve the purchasing power of the fixed payment from bonds.
USA Ten-year yields dropped four basis points, or 0.04 percentage point, to 2.71 percent at 5 p.m. New York time. They touched 2.69 percent, the lowest level since Feb. 11th, after climbing on Feb. 13th to 2.78 percent, the highest since Jan. 29th. The price of the 2.75 percent security due in February 2024 increased 10/32, or $3.13 per $1,000 face amount, to 100 3/8.
Fundamental policy and high impact news events for February 19th
Wednesday from Australia we receive the wage price increase index data, predicted to come in up 0.7% for the quarter. Japan publishes the BOJ monthly report, whilst the all Industries activity (month on month) for Japan is expected in at 0.2%.
Attention then shifts to the UK with the UK claimant count excepted in down 18.3K for the month, the unemployment rate is expected to stay at 7.1%. We'll receive the detail regarding the UK's BoE MPC's votes regarding quantitative easing and interest rate decision, both expected to have been unanimous. Average earnings are expected to have risen by 0.9% over the year and measured over the quarter.
ZEW economic expectations for Switzerland are predicted to come in at 36.8, similar to the previous month. Germany holds a ten year bond auction. In Canada monthly wholesale sales are expected in up 0.5%, USA building permits up 0.98 million annually, with the housing starts up at 0.95 million annually. USA PPI is expected in at 0.6%, with CPI at 0.4%. Finally for the USA the most recent FOMC meeting minutes will be published.
From New Zealand we receive the latest PPI input, expected at 0.9%, with output up 1.4% quarter on quarter. Japan's trade balance is expected to be worsening at -¥1.56 trillion.
« UK inflation falls as EU balance of payments surplus rises So we've decided to change our overall trading strategy, what to do next. Part two »