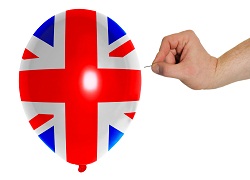 It's a fairly busy high impact news event day today so we'll get right on it. In the UK consumer price inflation has fallen below 2% at 1.9% but RPI (retail price inflation) is up to 2.9%. House prices in the UK are up 5.5% year on year with London at circa 12.3% per year distorting the regional picture which is showing prices only rising circa 3.1%.
In Europe car sales are up for the tenth successive month, whilst the balance of payments surplus has grown more than expected coming in at €21.3 billion for the month.
Overnight the Nikkei rose by 3.3% due to the BOJ further committing itself to a spectacular monetary easing programme of up to seventy trillion yen per annum.
For those in the analyst community who doubt the voracity and quality of the Chinese economy it would appear that outside foreign investors have no such qualms. China attracted $10.76 billion of foreign direct investment in January–up 16.1% on year, the Ministry of Commerce said in a statement Tuesday.
UK Consumer Price Inflation, January 2014
1.9% growth in Consumer Prices Index (CPI) in the year to January 2014, down from 2.0% in December 2013. The fall in the rate resulted from price movements for recreational goods & services, furniture & household goods and alcoholic beverages & tobacco. These were partially offset by price movements for miscellaneous goods & services. 1.8% growth in CPIH in the year to January 2014, down from 1.9% in December 2013. RPIJ grew by 2.1%, up from 2.0% in December 2013.
UK House Price Index, December 2013
UK house prices increased by 5.5% in December 2013 compared with a year earlier, up from 5.4% in November 2013. The average UK house price reached £250,000 in December 2013. House prices grew by 5.7% in England, 4.8% in Wales, 0.5% in Scotland and 4.8% in Northern Ireland. House price growth is beginning to increase strongly across parts of the UK, with prices in London increasing at more than double the UK average. Annual house price increases in England were driven by rises in London (12.3%), the East (4.6%) and the West Midlands (4.3%). Excluding London and the South East, UK house prices increased by 3.1%.
Euro area balance of payments
The seasonally adjusted current account of the euro area recorded a surplus of €21.3 billion in December 2013. This reflected surpluses for goods (€14.9 billion), services (€8.7 billion) and the income account (€9.3 billion), which were partly offset by a deficit for current transfers (€11.6 billion). According to the preliminary results for 2013 as a whole, the seasonally adjusted current account recorded a surplus of €221.3 billion (around 2.3% of euro area GDP, compared with a surplus of €128.6 billion in 2012 (around 1.4% of euro area GDP).
BOJ Statement on Monetary Policy
At the Monetary Policy Meeting held today, the Policy Board of the Bank of Japan decided, by a unanimous vote, to set the following guideline for money market operations for the inter-meeting period: The Bank of Japan will conduct money market operations so that the monetary base will increase at an annual pace of about 60-70 trillion yen. With regard to the asset purchases, the Bank will continue with the following guidelines: a) The Bank will purchase Japanese government bonds (JGBs) so that their amount outstanding will increase at an annual pace of about 50 trillion yen.
China January Foreign Direct Investment +16.1% on Year at $10.76 Billion
China attracted $10.76 billion of foreign direct investment in January–up 16.1% on year, the Ministry of Commerce said in a statement Tuesday. The figure was down from December's $12.08 billion–which was 3.3% higher on year. Non-financial overseas direct investment rose 47.2% on year in the first month of 2014 to $7.23 billion.
European Car Sales Rise a Fifth Month
European new car sales rose for a fifth consecutive month in January as the start of an economic recovery in countries sharing the euro encouraged purchases of models such as Volkswagen AG (VOW)'s Golf hatchback and Audi A3 sedan. New registrations increased 5.2 percent from a year earlier to 967,800 vehicles, the Brussels-based European Automobile Manufacturers Association, or ACEA, said today. That compares to a 13 percent jump in December sales. The stretch of gains is the longest since a 10-month period ended in March 2010.
Market snapshot at 10:00 am UK time
The ASX 200 closed up 0.18%, the CSI 300 down 1.26%, the Hang Seng up 0.23% with the Nikkei making spectacular gains of 3.13% after the BOJ statements regarding the Japanese economy and reaching inflation targets through monetary easing. In Europe the main bourses have opened down; Euro STOXX down 0.29%, CAC down 0.30%, DAX down 0.22% with the UK FTSE down 0.19%.
Looking towards the USA open, after the bourses were closed yesterday for a bank holiday, the DJIA equity index future is up 0.01%, SPX future down 0.06%, NASDAQ future is flat. NYMEX WTI oil is up 0.40% at $100.70 per barrel with NYMEX nat gas up 5.72% at $5.52 per therm. COMEX silver continues its recent spectacular gains, up 0.74% at $21.58 per ounce with gold up 0.02% at $1318.90 per ounce.
Forex focus
Japan's currency had lost 0.7 percent to 102.62 per dollar early in London after earlier touching 102.74, the weakest level since Jan. 31st. It slid 0.7 percent to 140.69 to the euro after reaching 140.86, a level unseen since Jan. 29th. The dollar was little changed at $1.3710 against Europe's shared currency after a 0.8 percent decline over the previous three days. The yen fell against every major currency after the Bank of Japan boosted lending programmes and said it will continue monetary easing to meet its inflation goal.
The dollar has declined 1.3 percent in the past month, the biggest drop among 10 developed-nation currencies tracked by Bloomberg Correlation-Weighted Indexes. The yen has strengthened 0.5 percent, while the euro has added 0.1 percent.
The Aussie rose 0.1 percent to 90.43 U.S. cents after earlier touching 90.81, the strongest since Jan. 13th. The Australian dollar touched a one-month high after the Reserve Bank said there were further signs easy policy and a weak currency were having an impact.
The pound gained 0.1 percent to $1.6733 early London time after rising to $1.6823 yesterday, the highest since November 2009. The U.K. currency traded at 81.94 pence per euro, after appreciating to 81.58 pence yesterday, the strongest level since January 2013. The pound approached a four-year high versus the dollar before a report economists said will show the annual U.K. inflation rate was at the Bank of England's target for a second month in January.
Bonds briefing
The U.S. 10-year yield was little changed at 2.74 percent early in London trading. The price of the 2.75 percent note due in February 2024 was 100 3/32. The yield has averaged 3.47 percent for the past decade. Treasuries fell to last place among the world's bond markets in the past year as investors bet the U.S. economy will improve as winter weather conditions ease, whilst the Bank of Japan has increased its efforts to spur growth.
« So you want to change your trading strategy, where do you begin and how dramatic should the changes actually be? A raft of poor data from the USA results in the DJIA closing down marginally »