Eurogroup reaches agreement with Cypriot authorities
Already finished Eurogroup and FMI press conference, attending IMF chief Christine Lagarde, Eurogroup Chairman Jeroen Dijsselbloem, EU's commissioner for economic affairs Olli Rehn, European Central Bank (ECB) board member Jorg Asmussen, and ESM managing director Klaus Regling, the Eurogroup has reached an agreement with the Cypriot authorities "on the key elements necessary for a future macroeconomic adjustment programme," the official Eurogroup statement reads. The agreement comes from all sides of the table, including all Euro area members states, along with the ECB, the IMF, and the ESM, also known as Troika. No further Cyprus parliament voting will be needed as the levy part of the deal has been "avoided", EU chairman said, remarking "should be no doubts about that," referring to any kind of discount on deposits below insured € 100k accounts.
Main focus on the deal has been reduced to the banking sector, also explained Mr Dijsselbloem, where "solution focuses on troubled banks," and the insured deposits. Among other measures, solution passes through a "split in a good and a bad bank", said EU's chairman, with the "bad" one "gone" in some uncertain future time. Laiki Bank, the "bad" bank, "will ultimately disappear," said IMF's Lagarde. Bank of Cyprus would be the "good" one, where under € 100k secured deposits would be transferred. Asked if there is any chance the "bad bank" survives, Dijsselbloem said there could be a small part left, but that only time could tell. For the amount of haircuts in unsecured deposits, no concrete answers were also given, saying "numbers will have to be calculated," noted Dijsselbloem, adding: "can't put a number on that yet." Olli Rehn also referred to upcoming EU memorandum by mid April as a source for further answers. When questioned if all this agreement was mainly just to "buy some time," EU commissioner denied it.-FXstreet.com
N/A
United States. Fed's William Dudley speech
2013-03-25 09:30 GMT
United Kingdom. BBA Mortgage Approvals (Feb)
2013-03-25 17:15 GMT
United States. Fed's Bernanke Speech
2013-03-25 21:45 GMT
New Zeland. Trade Balance (YoY) (Feb)
2013-03-25 06:24 GMT
EUR/USD still bearish despite the good news – UBS
2013-03-25 04:01 GMT
Eurogroup reaches agreement with Cypriot authorities
2013-03-25 01:42 GMT
EUR/JPY soars on Cyprus tentative deal
2013-03-25 01:13 GMT
AUD/USD holds below 1.0460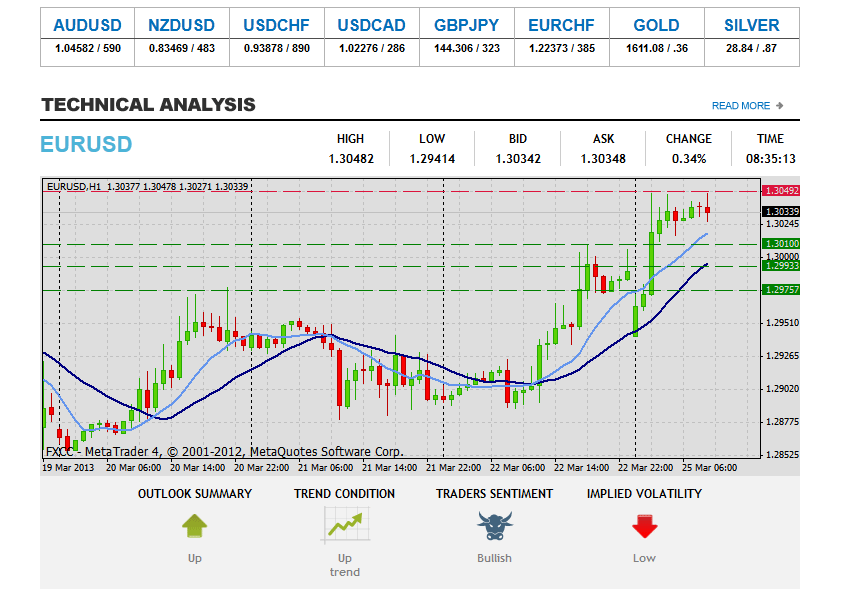 MARKET ANALYSIS – Intraday Analysis
Upwards scenario: The pair accelerates on the upside and determined positive market sentiment. If it manages to climb above the resistance level at 1.3049 (R1) there is a chance for a move towards to next targets at 1.3065 (R2) and 1.3081 (R3). Downwards scenario: On the other hand, pair looks overbought and possibility of correction is high. Next on tap is seen support level at 1.3010 (S1). Below here locates initial targets at 1.2993 (S2) and 1.2975 (S3).
Resistance Levels: 1.3049, 1.3065, 1.3081
Support Levels: 1.3010, 1.2993, 1.2975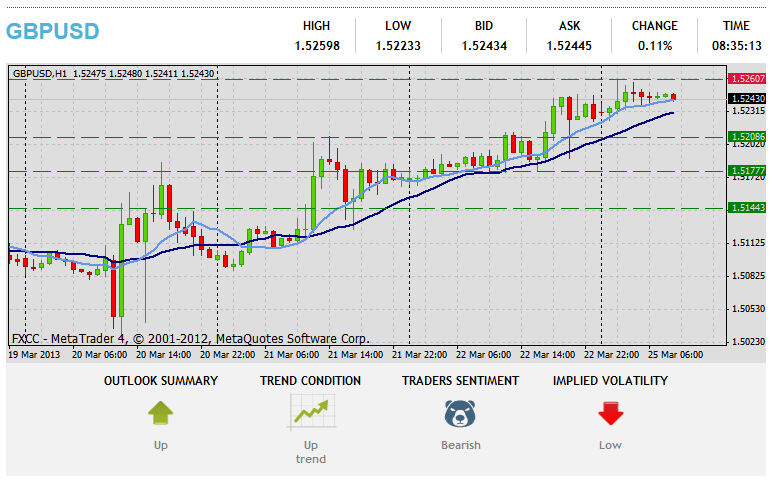 Upwards scenario: Our technical outlook for the medium-term perspective remains bullish oriented. Clearance of next resistance level at 1.5260 (R1) would enable bullish pressure and might expose our next targets at 1.5291 (R2) and 1.5322 (R3) in potential. Downwards scenario: On a slightly longer term we expect pullback formation. Risk of market depreciation is seen below the next support level at 1.5208 (S1). Clearance here would suggest next intraday targets at 1.5177 (S2) and 1.5144 (S3).
Resistance Levels: 1.5260, 1.5291, 1.5322
Support Levels: 1.5208, 1.5177, 1.5144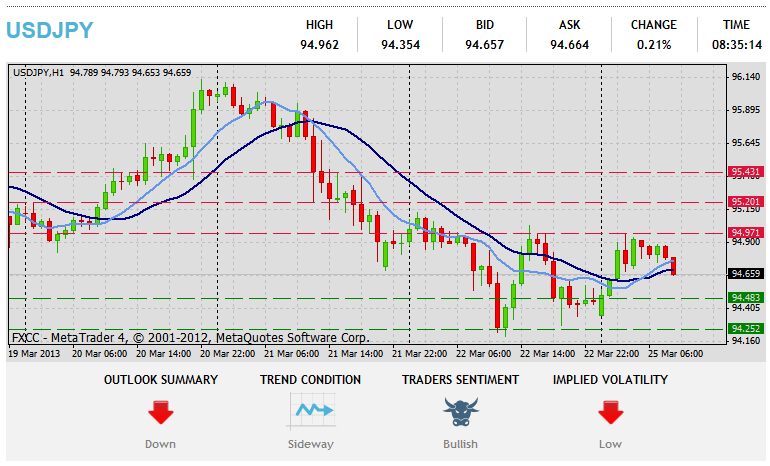 Upwards scenario: Market tested positive side today and formed gradual ascending move. Next resistance in focus stays at 94.97 (R1). If the break occur here we might see stronger move, targeting next attractive points at 95.20 (R2) and 95.43 (R3). Downwards scenario: Progress below the initial support level at 94.48 (S1) might trigger protective orders and stopped current consolidation development. Our intraday targets are seen at 94.25 (S2) and 94.01 (S3).
Resistance Levels: 94.97, 95.20, 95.43
Support Levels: 94.48, 94.25, 94.01
« Forex Technical & Market Analysis: March 20 2013 Forex Technical & Market Analysis: March 26 2013 »