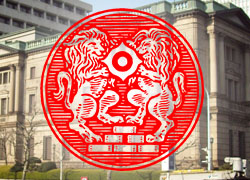 Yen took a fall and 2 year government bonds yields of Japan fell below 0, this after data revealed household expenditure dropped and inflation reduced.
1.6 percent was the number for the monthly loss for the Yen versus all its 16 counterparts amongst thoughts the Bank of Japan would continue growing stimulus. The 18 nation currency fell for its 2nd day against the American counterpart, this just before a report predicting the inflation of the region equaled the sluggish pace since 2009. The Australian dollar dropped and the Krone of Norway as well as the Canadian dollar continued their fall as members of OPEC left the output target the same amongst the oil's fall into a bearish market.
Kengo Suzuki who is chief currency strategist in Tokyo at Mizuho Securities Co. said;
As dollar buying continues on the back of falling oil prices, the yen is getting sold on higher stocks with an extra boost from the CPI. The inflation numbers could stoke expectations for further BOJ easing.
The Japanese currency fell 0.5 percent to 118.31 per dollar at 1:42pm Tokyo time setting it up to the 7 year low of 118.98 that it touched last week. The Yen dropped 0.4 percent to 147.27 per euro. The euro fell 0.2 percent to $1.2448.
Yield on the 2 year sovereign Japanese debt fell 1 basis point or 0.01 percent point, to -0.005 percent.
« Dollar takes a drop for a 3rd day against the Yen Dollar at 7 year high against the Yen »