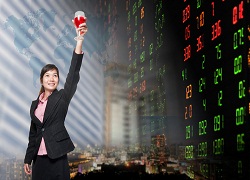 The markets in the USA and Europe closed for Xmas in bullish mood as key data from the USA pointed to increased and improved economic performance. House prices in the USA rose 0.5% in the month according to one house price survey. Durable goods orders in the USA closed up 3.5%, ahead of forecasts of 2% and a massive improvement from the previous month's 0.7%.
The Richmond manufacturing survey in the USA did miss expectations, coming in at 13 versus an estimated of 15. New home sales in the USA slipped by 2.1% month on month to 464K, however, year on year the improvement has been significant.
In the UK the final official stats data pre Xmas courtesy of the ONS was published and it provided a conundrum; despite rising employment figures productivity is falling, whilst wages are falling in the majority of sectors.
US Fifth District Survey of Manufacturing Activity
Fifth District manufacturing activity continued to grow at a slightly slower pace in December, according to the most recent survey by the Federal Reserve Bank of Richmond. Shipments and the volume of new orders grew at a slightly slower rate compared to last month. Manufacturing employment picked up this month, while wages and average work week rose more slowly. The backlog of orders and vendor lead time declined in December, as capacity utilization rose. Manufacturers remained optimistic about their future business conditions.
New-home sales decline 2.1% in November
Sales of new single-family homes declined in November, but remained close to the fastest pace since 2008, buyers are shaking off rising mortgage rates, according to U.S. Commerce Department data released Tuesday. Sales of new single-family homes declined 2.1% last month to a seasonally adjusted annual rate of 464,000, down from a rate of 474,000 in October, which was the fastest pace since July 2008. Rising mortgage rates hit home sales over the summer, but sales have rebounded in recent months. Economists polled had expected a November sales rate of 440,000.
FHFA House Price Index Up 0.5 Percent in October
U.S. house price appreciation continued in October 2013, with prices rising 0.5 percent on a seasonally adjusted basis from the previous month, according to the Federal Housing Finance Agency (FHFA) monthly House Price Index (HPI). The October HPI change marks the twenty-first consecutive monthly price increase in the purchase-only, seasonally adjusted index. The previously reported 0.3 percent increase in September was revised downward to a 0.2 percent increase.
Orders for Durable Goods in U.S. Increase More Than Forecast
Orders for durable goods climbed more than forecast in November, reflecting broad-based gains that signal U.S. business investment is rebounding after a third-quarter lull. Bookings for goods meant to last at least three years rose 3.5 percent after a 0.7 percent drop the prior month, a Commerce Department report showed today in Washington. The median estimate of 75 economists surveyed by Bloomberg called for a 2 percent advance. Excluding demand for transportation equipment, which is often volatile, orders also beat projections.
UK labour productivity fell 0.3% in the third quarter of the year, although output per worker rose slightly
Output per hour fell by 0.6% in the manufacturing sector in the third quarter but declined by 1.2% in the broader production sector. Output per hour in the service sector was unchanged in Q3. Whole economy unit labour costs decreased by 0.8% in 2013 Q3, reflecting the impact of the high level of bonus payments that were included in the previous quarter, and were 1.3% higher than a year earlier. Manufacturing unit wage costs decreased by 0.3% in Q3 and were 0.7% higher than a year earlier.
Market overview at 11:00 PM UK time
The DJIA closed up 0.39%, SPX up 0.29%, NASDAQ up 0.16%. Euro STOXX is up 0.06%, CAC up 0.07%, DAX was flat and UK FTSE up 0.23%. NYMEX WTI oil was up 0.3% at $99.22 per barrel, NYMEX nat gas is down 1.05% $4.42 per therm.
Forex focus
The dollar gained 0.2 percent to 104.30 yen as of mid-afternoon in New York. It rose to 104.64 yen on Dec. 20th, the most since October 2008. The U.S. currency appreciated 0.2 percent to $1.3673 per euro. The 17-nation common currency was little changed at 142.62 yen. The dollar rose to almost a five-year high versus the yen as traders bet on a divergence in monetary policy with the Federal Reserve paring stimulus while the Bank of Japan continues unprecedented easing.
The yen has fallen 15.2 percent this year, the most amongst the 10 developed-market currencies tracked by Bloomberg Correlation-Weighted Indexes. The dollar gained 4 percent, while the euro was the best performer, jumping 8.3 percent.
The loonie, as the Canadian dollar is known, fell 0.2 percent to C$1.0623 per U.S. dollar mid-afternoon in Toronto. One loonie buys 94.14 U.S. cents. The Canadian dollar fell for the first time in four days on speculation that stronger U.S. economic growth may persuade the Federal Reserve to accelerate its withdrawal of stimulus while the Bank of Canada stays on hold.
Bonds
The yield on the benchmark 10-year note climbed five basis points, or 0.05 percentage point, to 2.98 percent mid-afternoon New York time. It was the highest level since Sept. 6th, when the yield touched 3.01 percent, the most since July 2011. The price of the 2.75 percent security due in November 2023 dropped 13/32, or $4.06 per $1,000 face amount, to 98 2/32. Five-year note yields reached 1.74 percent, the highest since Sept. 13. Thirty-year bond yields advanced four basis points to 3.89 percent.
« The Nikkei index breaches the critical 16,000 level for the first time since 2007 Trader New Year resolutions »