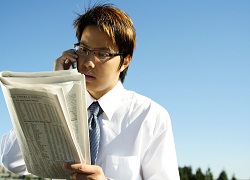 In a relatively quiet overnight and early morning session for high impact news or policy decision making the bank of Japan published its rather bullish notes regarding the Japanese economy. It cited unemployment being low, exports rising and corporate profits increasing as reasons to be cheerful for 2014. This bullish statement helped propel the Nikkei to flirt with the critical 'psyche' level of 16000 where naturally the index experienced resistance due to the cluster of orders situated at this level.
UK mortgage approvals have continued their steady rise, adding to the belief amongst many analysts that the UK housing market might move from 'simmering', at approx. 3% house price growth in 2013, to 'boiling' of 8% growth in 2014, a level of growth that the UK's Halifax bank are predicting as their higher extreme possibility for 2014.
France is continuing to deliver slightly improved economic data lately, French consumer consumption increased by 1.4% in November, comparing the year on year figure consumption has risen 2.7% year on year.
UK mortgage borrowing increases in November to 45K
Gross mortgage borrowing of £10.3bn in November was higher than October and 37% higher than in November a year earlier. For some time, higher capital repayment (in part reflecting homeowners switching lenders) led to net monthly contractions in borrowing. However the overall mortgage stock did rise in November.
BOJ Monthly Report of Recent Economic and Financial Developments: Dec 2013
Japan's economy has been recovering moderately. Overseas economies as a whole are picking up moderately, although a lackluster performance is partly seen. In this situation, exports have generally been picking up. Business fixed investment has been picking up as corporate profits have improved. Public investment has continued to increase and housing investment has also increased. Private consumption has remained resilient, with improvement in the employment and income situation.
French Household consumption expenditure on goods – November 2013
In November, household expenditure on goods increased by 1.4 % in volume, after decreasing by 0.1% in October. This increase was mainly due to a decrease in expenditure on energy products (+7.5%). Expenditure on engineered goods has been increasing continuously since June. Household expenditure on durables weakened in November (-0.3%), after a 1.1% increase in October. This was attributable to a decrease in car purchases (-0.4%, after +1.4%) and in household durables (-0.3% after +0.9%). In total, consumption of durables increased by 1.7% compared to November 2012.
Market snapshot at 10:00 am UK time
The ASX 200 closed up 0.67% in the overnight session, the CSI 300 by 0.16%, the Hang Seng by 1.13%, and the Nikkei by 0.12%. In the morning trading session in Europe the STOXX 50 is up 0.06%, CAC up 0.19%, DAX up 0.94% and the UK FTSE up 0.29%.
Looking towards the New York open the DJIA equity index future is at the time of writing up 0.03%, SPX future up 0.03% and the NASDAQ future is up 0.04% suggesting that the USA bourses will open marginally higher.
Commodities have had a mixed reaction in the morning trading session; NYMEX WTI oil is down 0.16% at $98.75 per barrel, NYMEX nat gas is up 0.36% at $4.48 per therm, COMEX gold is up 0.13% at $1198.60 per ounce, with silver down 0.22% at $19.37 per ounce.
Forex focus
The dollar gained 0.1 percent to 104.17 yen early in London trading from yesterday. It reached 104.64 yen on Dec. 20th, the most since October 2008. The U.S. currency added 0.1 percent to $1.3688 per euro. It rose 0.3 percent to 89.10 U.S. cents per Australian dollar. The dollar rose towards a five-year high against the yen as traders bet on a divergence in monetary policy with the U.S. Federal Reserve paring stimulus while the Bank of Japan continues unprecedented easing.
The pound traded at $1.6348 early London time after climbing to $1.6484 on Dec. 18th, the highest since August 2011. The U.K. currency was little changed at 83.74 pence per euro, after appreciating to 82.53 pence on Dec. 2nd, the strongest level since Jan. 11th. The pound was little changed versus the dollar, about 0.9 percent from its two-year high, before a report from the British Bankers' Association that economists said will show U.K. mortgage approvals increased in November.
Bonds
The yield on the benchmark 10-year note was little changed at 2.93 percent as of early in London time. It rose to 2.96 percent on Dec. 20th, the highest since Sept. 11th. The price of the 2.75 percent security due in November 2023 was 98 1/2. The five-year note yield slid two basis points, or 0.02 percentage point, to 1.68 percent. The rate rose to 1.71 percent yesterday, the highest level since Sept. 13th.

« Equity markets enjoy a late Santa rally as USA consumers feel more confident Xmas Santa rally finishes on a high with DJIA and SPX reaching new highs »