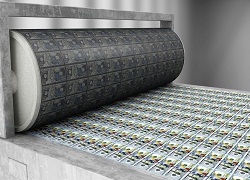 The main markets in the USA rallied hard on Monday due to the subject of QE returning to the investment landscape. Naturally, the tapering that the Fed are currently engaged in will be brought into question after Federal Reserve Chairwoman Janet Yellen stated on Monday that the recovery still feels like a recession to many Americans, which is why the central bank will keep its "extraordinary" support for the economy for "some time to come." In a speech to a Chicago community reinvestment conference Yellen also provided evidence why there's still slack in the jobs market, and weighed in on the issue of why the participation rate is so low.
The speech from Yellen came as the Chicago business barometer fell by 3.9 points in March which although not a high impact news event was overshadowed by the news regarding Ms Yellen's speech.
There was some good news from the wires on Monday concerning Canada's GDP which rose by 0.5% in January following a fall of the same in December. This news had a correlated effect on the value of the loonie versus its major peers with the loonie rising versus the dollar.
Chicago Business Barometer down 3.9 points to 55.9 in March
The Chicago Business Barometer decreased 3.9 points in March to 55.9, the lowest level since August, led by a decline in New Orders and a sharp fall in Employment. Business activity slowed, with the Barometer averaging 58.4 in the first quarter, down from a two and a half year high of 63.3 in the fourth quarter of 2013. It remained well above the 50 level, though, pointing to continued recovery of the US economy in a quarter that was plagued by bad weather which almost certainly had some negative impact on the results. Although New Orders remained firm above the 50 break-even level, they eased for the second consecutive.
Canada Gross Domestic Product by Industry, January2014
Real gross domestic product rose 0.5% in January. This follows a 0.5% decline in December after five consecutive monthly increases. The output of goods-producing industries grew 1.0% in January, led by an increase in manufacturing and, to a lesser extent, in mining and oil and gas extraction and in construction. In contrast, the agriculture and forestry sector and utilities declined. The output of service industries increased 0.3% in January, as most major industrial sectors registered growth. Gains were notable in retail and wholesale trade, the finance and insurance sector, accommodation and food services as well as transportation.
Market overview at 10:30 PM UK time
The DJIA closed up 0.83%, the SPX closed up 0.83% and the NASDAQ up 1.14%. Euro STOXX closed down 0.34%, CAC down 0.45%, DAX down 0.33% and the UK FTSE down 0.26%. The DJIA equity index future is up 0.79%, SPX up 0.75%, NASDAQ up 0.65%. Euro STOXX future is down 0.19%, DAX future down 0.18%, CAC down 0.29%, FTSE up 0.02%.
NYMEX WTI oil is down 0.17% on the day at $101.50 per barrel, NYMEX nat gas is down 2.45% on the day at $4.38 per therm. COMEX gold is down 0.82% at $1283.70 per ounce, with silver down 0.15% at $19.76 per ounce.
Forex focus
The greenback fell 0.2 percent to $1.3779 versus the 18-nation shared currency mid-afternoon New York time, after rising to $1.3705 on March 28th, the highest since Feb. 28th. Japan's currency slid 0.4 percent to 103.21 per dollar after touching 103.44, the weakest since March 7th. That cut its quarterly advance to 2 percent. It declined 0.6 percent to 142.21 per euro.
The Bloomberg Dollar Spot Index, which tracks the greenback against 10 major counterparts, declined 0.1 percent to 1,015.70. The dollar declined versus most major peers as Federal Reserve Chair Janet Yellen said the economy will need support for "some time" after a regional measure of manufacturing decreased.
New Zealand's currency has gained 5.6 percent against the greenback this year, the most of the dollar's 16 major peers. Brazil's real has rallied 4.3 percent and the Australian dollar has climbed 4 percent. Canada's dollar, known as the loonie, has fallen the most, dropping 3.9 percent.
The pound is poised for its longest quarterly winning streak versus the greenback since 2007 before reports by Halifax and Nationwide Building Society later this week are forecast to show house prices increased. Sterling gained for a sixth day, adding 0.2 percent to $1.6672 per dollar.
Bonds briefing
Treasury two-year note yields fell 0.02 percentage points, or two basis points to 0.43 percent mid-afternoon in New York. The yield reached 0.47 percent on March 26th, the highest level since Sept. 6th. Benchmark 10-year note yields increased one basis point, or 0.01 percentage point, to 2.73 percent. The yield has climbed eight basis points this month. The 2.75 percent note maturing in February 2024 dropped 1/32, or 31 cents per $1,000-face amount, to 100 6/32.
Treasury two-year notes rose, pushing yields down from almost the highest level in six months, after Federal Reserve Chair Janet Yellen said "considerable slack" in labour markets showed that the central bank's accommodative policies will be needed for "some time."
Fundamental policy decisions and high impact news events for April 1st
Tuesday sees the Tankan manufacturing index from Japan published expected in at 19 with the manufacturing predicted in at 24. The Chinese manufacturing PMI is expected to come in at 50.1. The HSBC manufacturing PMI for China is predicted in at 48.5. Australia's central bank is expected to keep its base interest rate at 2.5% and the RBA will publish a statement to accompany the decision.
Turning to Europe the Spanish manufacturing PMI and the prediction is for the print to come in at 52.9, Italy's expected in at 52.2. The UK's PMI is expected in at 56.7. Europe's unemployment rate is expected in at 12% as ECOFIN meetings take place throughout the day.
From the USA the final manufacturing PMI is published, expected in at 55.9, with the ISM Manufacturing expected in at 54.2. Total vehicle sales in the USA are predicted in at 15.8 million for the month.

« Germans go shopping in 2014 whilst sales of new homes in Australia increase markedly System hopping can kill your account balance more quickly than poor trading »