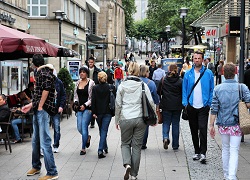 Despite not all of its leading economic indicators being as positive as other leading global economies Germans do appear to have an elevated belief in the quality of the recovery witnessed over recent years. According to stats released this morning retail turnover in Germany has increased by circa 2% in real terms February 2013 – February 2014. And Germany isn't the only global economy where consumers appear to have great faith in the economy; in Australia the sale of new homes has increased exponentially in February by an outstanding 4.6% on the previous month.
In Europe this morning flash estimate figures were released regarding the inflation rate the area is currently experiencing, the reading came in at 0.5%, which will have many concerned that a period of deflation may be upon the region, with analysts perhaps predicting that the ECB will have to lower rates further, to close on zero, or indulge in a form of QE that'll stimulate the economy and prevent a deflationary spiral from taking hold.
In other news this morning the UK mortgage approvals came in below expectations of 75K at 70K, much has been made of the supposed soar away property market in the UK which in reality is more London centric than Nationwide.
Euro area annual inflation down to 0.5%
Euro area annual inflation is expected to be 0.5% in March 2014, down from 0.7% in February, according to a flash estimate from Eurostat, the statistical office of the European Union. Looking at the main components of euro area inflation, services is expected to have the highest annual rate in March (1.1%, compared with 1.3% in February), followed by food, alcohol & tobacco (1.0%, compared with 1.5% in February), non-energy industrial goods (0.3%, compared with 0.4% in February) and energy (-2.1%, compared with -2.3% in February).
German Retail turnover in February 2014: + 2.0 % in real terms on February 2013
According to provisional results of the Federal Statistical Office (Destatis), retail turnover in February 2014 in Germany increased 2.0 % in real terms and 3.0 % in nominal terms compared with the corresponding month of the previous year. The number of days open for sale was 24 in February 2014 and 24 in February 2013, too. When adjusted for calendar and seasonal variations (Census-X-12-ARIMA), the February turnover was in real terms 1.3 % and nominal terms 1.1 % larger than that in January 2014. Compared with the previous year, turnover in retail trade was in the first two months of 2014 in real terms 1.5 % and in nominal terms 2.6%.
Australia Feb new home sales jump 4.6%
Sales of new homes in Australia jumped in February on strong demand for detached houses, an industry survey showed on Monday, the latest sign that low interest rates are fuelling a revival in the market. The Housing Industry Association (HIA) said its survey of large builders showed sales of new homes rose 4.6 percent in February from January, to their highest in almost three years. Sales of new detached houses surged 6.9 percent in February, while the volatile multi-unit sector dropped 6.8 percent. "Both sales and building approvals for detached housing are signalling faster momentum ahead for this component of new dwelling.
Deutsche Bank lowers its growth estimate for China, European bourses one in positive territory
Deutsche Bank has lowered its estimates for growth in China this year, Australia's biggest trading partner. China's economy will (only) expand 7.8 percent this year, and 8.0 percent next year, compared with previous estimates for 8.6 percent growth in 2014 and 8.2 percent in 2015, their chief economist for Asia, wrote in a note dated March 28th.
Market snapshot at 10:00am UK time
The ASX 200 closed up 0.52%, the Hang Seng up 0.31%, the CSI 300 down 0.26% and the Nikkei up 0.90%. In Europe the main bourses have opened up positive; euro STOXX up 0.20%, CAC up 0.07%, DAX up 0.17%, and the UK FTSE up 0.36%. Looking towards New York open the DJIA equity index future is up 0.43%, SPX future up 0.42% and the NASDAQ future is up 0.47%.
NYMEX WTI oil is down 0.05% at $101.62 per barrel, with NYMEX nat gas down 0.85% at $4.45 per therm. COMEX gold is down 0.04% at $1293.00 per ounce with silver up 0.33% at $19.88 per ounce.
Forex focus
The euro was little changed at $1.3756 early London time after reaching $1.3705 on March 28th, the lowest since Feb. 28th. It is little changed against the greenback since Dec. 31st. Europe's shared currency advanced 0.2 percent to 141.71 yen, set for a 2.1 percent drop this quarter. The dollar rose 0.1 percent to 102.97 yen after reaching 103 yen, the most since March 12th. It has fallen 2.2 percent against its Japanese counterpart this year. The euro traded near a one-month low before data today that analysts said will show inflation slowed in the region, boosting bets the European Central Bank will signal stimulus measures at a policy meeting this week.
The Aussie declined 0.1 percent to 92.40 U.S. cents after reaching 92.95 on March 28th, a level not seen since Nov. 21st. It is set for a 3.6 percent quarterly advance.
Bonds briefing
Treasuries were little changed, with the 10-year yield at 2.73 percent early in London. The average over the past decade is 3.46 percent. The price of the 2.75 percent security due in February 2024 was 100 6/32. Treasuries have fallen 0.3 percent in March, based on the Bloomberg U.S. Treasury Bond Index, set for the first monthly decline since December. They are up 1.7 percent for the first quarter, gaining earlier in the year as winter weather curbed growth. Treasuries headed for their first monthly loss this year while U.S. corporate bonds eked out a gain on speculation economic growth is picking up.

« Swing/trend analysis for the week beginning March 31st USA markets rally as Janet Yellen promises more stimulus for the USA economy »