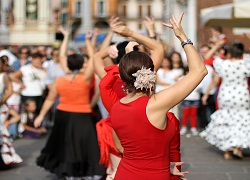 There were several data prints published on Friday morning concerning the UK economy that were extremely bullish. UK house prices have increased by circa 8.3% year on year according to one of the UK's major lenders the Nationwide. Similarly mortgage lending came in just above the 70K for the month of December, a level not seen in December for many years, since 2008 to be precise.
Also construction data for the UK looks to be very secure with the Markit/CIPS data coming in at 62, well ahead of the 50 level which indicates growth from contraction when using diffusion indices. However, buried amongst the very good data was a poor print suggesting that all is not well in the UK's consumer debt driven economy and society. Net business lending tumbled by 4.7 billion pounds in November, the biggest drop since the data series started in April 2011 and one which leaves lending 3.9 percent lower than a year earlier.
Spain appears to be tentatively clawing itself out of the austerity grave it was placed in, unemployment numbers appear good in the latest print. What's more circa 544K extra jobs have apparently been created in 2013, the best data since 1999.
Sharp rate of UK construction output growth maintained
UK construction companies remained in expansion mode at the end of 2013, as highlighted by relatively sharp rises in output, new orders and employment during the latest survey period. Survey respondents also anticipate an increase in business activity over the course of 2014, with the proportion of firms forecasting growth (57%) well above those that expect a decline (10%). Adjusted for seasonal factors, the Markit/CIPS UK Construction Purchasing Managers' Index was down only slightly from November's 75-month peak. At 62.1 in December, from 62.6 in the previous month.
Spain – decrease of 147,385 registered unemployed for 2013
Registered unemployment in December has fallen by 107,570 people from the previous month. It is the largest decline in December and the second largest in any month of the whole time series, after which occurred in June (127,248). In December 2012, unemployment fell by 59,094 people. During 2013 the registered unemployment has decreased 147,385 people. Secretary of State for Employment, Engracia Hidalgo, recalled that
In the last 5 years registered unemployment had increased by an average of 544,000 people from the previous year (543,835) and to find a better figure, one must go back to 1999.
Global indices followed Thursday's lead
The global fall in equity markets continued on Friday, with bourses weakening across the Asia-Pacific region. Hong Kong's Hang Seng index was the worst performer in the region, dropping 2.24 per cent in the overnight/early morning session. The global weakness followed a 0.9 per cent drop in the S&P 500, which finished 2013 at a record high.
Conditions in China's services sector dropped to their lowest point since August last month, consistent with a slowdown in the manufacturing sector seen earlier this week. The non-manufacturing index fell from 56 in November to 54.6 in December, the survey from the China Federation of Logistics & Purchasing says.
Market snapshot at 10:00 am UK time
The ASX 200 closed down 0.34%, the CSI 300 down 1.34%, the Hang Seng down 2.24%, whilst the Nikkei closed up 0.69%. In Europe the STOXX index is down 0.09%, CAC up 0.09%, DAX down 0.22% and the UK FTSE down 0.18%. Looking towards the New York open the DJIA equity index future is down 0.07%, SPX future down 0.11% and the NASDAQ future down 0.23%.
NYMEX WTI oil is up 0.06% at $95.50 per barrel with NYMEX nat gas down 0.05% per therm at $4.32 per therm.
Forex focus
The yen rose 0.5 percent to 104.27 per dollar early London time, extending this week's gain to 0.9 percent, the biggest since the period ended Sept. 27th. It depreciated to 105.44 yesterday, the weakest since October 2008. Japan's currency gained 0.8 percent to 142.14 per euro. The euro fell 0.3 percent to $1.3633. The Australian dollar climbed 0.8 percent to 89.86 U.S. cents, extending this week's advance to 1.3 percent, the most since the period ended Oct. 18th. The yen and Australian dollar, the two worst-performing major currencies last year, headed for the biggest weekly gains in at least two months on speculation their recent declines were too rapid.
The pound was little changed at 83.02 pence per euro early London time. It has strengthened 0.4 percent versus the common currency this week. Sterling traded at $1.6451 after climbing to $1.6603 yesterday, the highest since August 2011.
Bonds
The benchmark 10-year yield fell two basis points, or 0.02 percentage point, to 2.97 percent early London time. The 2.75 percent note due November 2023 rose 5/32, or $1.56 per $1,000 face amount, to 98 3/32. Treasuries opened in London after being closed in Japan for a holiday. The yield declined four basis points, or 0.04 percentage point, yesterday. Treasuries rose for a second day before Federal Reserve Chairman Ben Bernanke addresses economists today and as investors speculated whether the economy is strong enough to end stimulus this year.

« You think you're hopeless at trading, so what's wrong and how can you fix it simply and quickly? Part one Swing/trend analysis for week beginning Sunday January 5th 2014 »