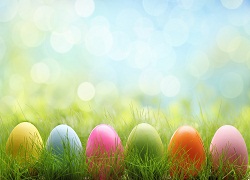 The main USA bourses experienced relatively quiet sessions on Thursday as the Good Friday holiday approached. The latest weekly unemployment claimant count from the USA crept up above the critical 300K level to give a reading of 304K, up 2K from the previous week's revised figure.
In other USA based news the Philly Fed manufacturing index rose sharply up from 9 to 16.6 whilst another survey, the business outlook survey, was also positive with regards to the USA economy.
From Canada we received the latest CPI reading which came in at 1.5% for March, quite a rise from the 1.1% reading delivered in February causing bids on the Canadian loonie.
Natural-gas prices rally after supply data
Natural-gas futures on Thursday rallied after the U.S. Energy Information Administration reported that supplies of natural gas rose 24 billion cubic feet for the week ended April 11. That was less than the market expected as analysts surveyed by Platts forecast an increase of between 34 billion cubic feet and 38 billion cubic feet. Total stocks now stand at 850 billion cubic feet, down 850 billion cubic feet from a year ago and 1 trillion cubic feet below the five-year average, the government said. May natural gas NGK14 +2.67% was at $4.69 per million British thermal units, up 16 cents, or 3.4%. It was trading lower at $4.51 before the data.
April 2014 Business Outlook Survey
Manufacturing activity in the region increased in April, according to firms responding to this month's Business Outlook Survey. The survey's broadest indicators for general activity, new orders, shipments, and employment all remained positive and increased from their readings in March. Price pressures remain modest. The survey's indicators of future activity reflected optimism about continued expansion over the next six months, although the indicators have fallen from higher readings in recent months.
Philly Fed manufacturing index picks up in April registers highest reading since last September
A reading of manufacturing sentiment in the Philadelphia region improved in April, according to data released Thursday, contradicting a disappointing regional index from the New York Fed released earlier in the week. The Philadelphia Fed's manufacturing index rose to a reading of 16.6 in April from 9.0 in March, stronger than a MarketWatch-compiled economist forecast of 10.0. It is the strongest reading since last September. Any reading above zero indicated expansion. The index has improved markedly from a negative 6.3 reading in February that was blamed on severe winter weather.
Canada Consumer Price Index, March2014
The Consumer Price Index (CPI) rose 1.5% in the 12 months to March, following a 1.1% increase in February. The larger year-over-year rise in the CPI in March compared with February was led by energy prices, which rose 4.6% in the 12 months to March, following a 1.6% increase in February. Gasoline prices rose 1.4% on a year-over-year basis, after decreasing 1.3% in February. In addition, the natural gas index increased 17.9% in March, following a 5.5% rise in February. The rise in the natural gas index in March was mainly attributable to a price increase in Alberta. Prices for electricity rose 5.0% in the 12 months to March.
US Unemployment Insurance Weekly Claims Report
In the week ending April 12, the advance figure for season ally adjusted initial claims was 304,000, an increase of 2,000 from the previous week's revised level. The previous week's level was revised up by 2,000 from 300,000 to 302,000. The 4 – week moving average was 312,000, a decrease of 4,750 from the previous week's revised average. This is the lowest level for this average since October 6, 2007 when it was 302,000. The previous week's average was revised up by 500 from 316,250 to 316,750. There were no special factors impacting this week's initial claims. The advance seasonally adjusted insured unemployment rate was 2.1%.
Market overview at 10:00 PM UK time
The DJIA closed down 0.10%, the SPX up 0.14% the NASDAQ up 0.23%. In Europe euro STOXX closed up 0.53%, CAC up 0.59%, DAX up 0.99% and the UK FTSE 100 closed up t0.62%.
NYMEX WTI oil closed up 0.69% at $104.47 per barrel, NYMEX nat gas closed up 4.59% at $4.74 per therm. COMEX gold was down 0.72% on the day at $1294.20 per ounce with silver on COMEX up 0.49% at $19.59 per ounce.
Forex focus
The Bloomberg Dollar Spot Index, which tracks the U.S. currency against 10 major peers, rose 0.1 percent to 1,010.75 mid-afternoon New York time and touched 1,010.87, the highest level since April 8th. It erased an earlier decline of 0.2 percent, its biggest drop since April 9th.
The dollar gained 0.2 percent to 102.44 yen and touched 102.47, the highest since April 8th. It fell as much as 0.4 percent earlier. The greenback was little changed at $1.3815 per euro after also falling 0.4 percent earlier. The euro gained 0.2 percent to 141.51 yen. The dollar strengthened for a fifth day against a basket of major peers as an accord to de-escalate the conflict in Ukraine sent stocks higher and pushed Treasuries down the most in a month.
The pound rose as much as 0.3 percent to $1.6842, the strongest since November 2009, before trading little changed at $1.6789.
Canada's dollar strengthened 0.2 percent to C$1.0995 per U.S. dollar early in Toronto. Bond yields rose, with the five-year security rising to 1.70 percent from 1.66 percent. Canada's inflation rate rebounded in March as rising energy prices triggered the biggest gain in shelter costs in more than three years.
Bonds briefing
Benchmark 10-year yields added nine basis points, or 0.09 percentage point, to 2.72 percent mid-afternoon in New York. The 2.75 percent note due in February 2024 lost 26/32, or $8.13 per $1,000 face amount, to 100 1/4. The yield was the most witnessed since March 19th and touched 2.72 percent, the highest level since April 7.
U.S. five-year yields increased nine basis points to 1.73 percent. The yield on the 30-year bond climbed eight basis points to 3.52 percent after falling to 3.43 percent on April 15, the lowest level since July 3rd.

« Solid Wall St. gains yesterday fail to lift Asian markets as European markets open lower as Ukraine crisis still critical Is the losing period I'm currently experiencing down to my strategy, or just bad luck through 'outlier' events? »