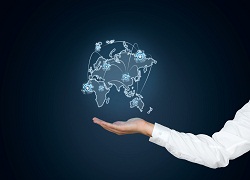 Asian markets failed to maintain an upbeat momentum despite the solid gains seen on Wall Street yesterday, Hong Kong stocks outperformed as Beijing cut the reserve requirement ratio for some rural banks. There were solid gains on Wall Street, as a decline in the US dollar lifted the yen and hurt Japanese exporters.
A recovering US economy may not pull inflation back up towards the Federal Reserve's 2 per cent target Janet Yellen said, in remarks that raise the possibility of easy monetary policy for longer than currently expected. In a speech to the Economic Club of New York on Wednesday, the chair of the Fed said that high levels of unemployment had put less downward pressure on inflation than expected, so higher employment might not pull prices up again.
Sterling has risen to its highest level against the dollar for more than four years, as traders bet on a UK interest rate rise and low-for-longer rates in the US. The British currency reached $1.685 during Asia morning trade, its highest since November 2009.
A surge in costs, along with a slight shortfall in revenues, left earnings short of expectations and erased about 3 per from Google's share price in after-market trading. Other internet stocks felt the reaction; Facebook lost nearly 1.5 per cent in after-hours trading.
IBM has suffered a more than 20 per cent fall in net income in the first quarter, as revenues slid and a massive restructuring programme cost the computing company almost $900m. Shares dipped 4 per cent in after-hours trading in New York even as the company met analysts' expectations.
German Producer prices in March 2014: –0.9% on March 2013
In March 2014 the index of producer prices for industrial products fell by 0.9% compared with the corresponding month of the preceding year. While prices of consumer non-durable goods increased by 1.3% compared with March 2013, prices of intermediate goods decreased by 1.9% and energy by 2.6%. In February 2014 the annual rate of change of the overall index had been –0.9% as well. The overall index disregarding energy fell by 0.3% compared with March 2013. Compared with the preceding month the index fell by 0.3% in March 2014 (–0.1% in January 2014 and unchanged in February 2014).
BOJ Governor Kuroda: Japan's economy continues to recover moderately
Bank of Japan (BOJ) Governor Kuroda: Japan's economy continues to recover moderately. Japan's economy likely to continue recovering as a trend, Japan is making steady progress in meeting BOJ's price target. The BOJ will maintain its QE program until needed to sustainably meet its price target BOJ will adjust policy when needed. Looking at the upside, downside risks to economy, prices Japan's financial system maintaining stability as a whole.
Market snapshot at 9:30 am UK time
The ASX 200 closed up 0.63%, the CSI 300 down 0.35%, Hang Seng down 0.03%, and the Nikkei closed flat. The main European indices have opened down; euro STOXX is down 0.22%, CAC down 0.02%, DAX down 0.21% and the UK FTSE is down 0.23%.
Looking towards the New York open the DJIA equity index future is currently down 0.20%, the SPX down 0.17% and the NASDAQ future is down 0.12%.
NYMEX WTI oil is up 0.46% at $104.23 per barrel, NYMEX nat gas is up 0.60% at $4.56 per therm. COMEX gold is down 0.35% at $1299.00 per ounce with silver up 0.47% on COMEX at $19.58 per ounce.
Forex focus
The dollar fell 0.2 percent to $1.3844 per euro early in London. It slid 0.2 percent to 101.99 yen, after rising 0.7 percent in the previous four days. The Japanese currency fetched 141.18 per euro from 141.24 yesterday.
The pound gained 0.2 percent to $1.6831, after reaching $1.6837, the highest since November 2009. The Australian dollar lost 0.1 percent to 93.61 U.S. cents, set to fall 0.4 percent this week. New Zealand's kiwi was little changed at 86.32 U.S. cents after gaining as much as 0.3 percent. It has fallen 0.6 percent since April 11th.
The dollar fell against most of its Group of 10 peers after Federal Reserve Chair Janet Yellen said the central bank has a "continuing commitment" to support the economic recovery.
The pound rose to the highest in more than four years after data yesterday showed the U.K unemployment rate fell to the lowest since 2009, adding to signs the economy is gaining traction.
The pound rose 5.2 percent in the past six months against a basket of nine other developed-nation currencies tracked by Bloomberg Correlation-Weighted Indexes, the biggest gain within the group. The dollar rose 0.6 percent and the euro climbed 2 percent, while the yen dropped 3.8 percent.
Bonds briefing
Five-year yields were little changed at 1.64 percent early in London. Benchmark 10-year yields were 2.63 percent. The price of the 2.75 percent security due in February 2024 was 101 2/32. Treasury 5-year notes were near the cheapest level since 2010 versus 2- and 10-year securities amid speculation economic growth will lead the Federal Reserve to raise interest rates in 2015.

« Our most memorable trades SPX rises by 0.14% capping an up week for the index. Canadian CPI rises sharply whilst USA unemployment claims rise moderately »