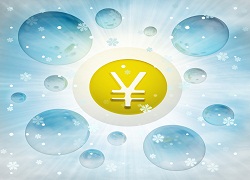 Overnight Japan's official stats bureau published disappointing trade data in relation to Japan's balance of payments. The $5.74 billion deficit for November was a recorded high and followed a pattern set out in previous months' data. Naturally the huge government stimulus, by way of the asset purchase scheme, has severely weakened the yen causing imports to be more expensive and the profitability of exports has weakened.
It's at times such as these many analysts will call into question the sanity of the huge monetary easing programme Japan has engineered given that the economic principles, that have underpinned the strength of the Japanese economy for many decades, appears to have been eroded. In what is a blink of an eye, in terms of economic history, Japan may have reversed from being an exporting powerhouse with strong balance of payments surpluses, to the type of economy we see in other developed economies such as the UK and USA who run balance of trade and payments deficits month after month and year after year, due to their economies having consumer debt spending as a key ingredient to their overall economic model.
As an illustration the UK's ONS has just published data revealing that UK house prices have risen by 5.4% year on year partly as a consequence of the UK government's help to buy scheme; allowing buyers to obtain 20% deposits, backed by the UK govt., in order to obtain bigger mortgages in an inflating housing market place.
France has published its latest inflation figures this morning revealing that inflation has increased by 0.3% month on month. The UK has also published its latest CPI figure showing that inflation in the UK has reached 2% year on year, the lowest figure since November 2009. Meanwhile Germany's wholesale prices have fallen by an average of 0.5% in December, with the index being down 1.5% when specifically comparing December 2013 to December 2012.
Wall Street's steepest decline since November witnessed yesterday continued through Asia, with Japanese stocks leading the way down. In Tokyo the Nikkei 225 average was down 3.1 per cent, its biggest drop since October 25th 2013, as Japanese markets reopened after Monday's public holiday to the revelation of a record balance of payments deficit, calling into question the sanity of the BOJ's massive monetary easing/stimulus package witnessed in 2013.
The US Congress agreed a broad spending deal for the first time since 2009, but it has left the International Monetary Fund in confusion by refusing to fund its latest capital increase. The $1.012tn package sets out how the US will spend the budget after negotiations in December.
Japan logs record current account deficit as trade balance tips
The Ministry of Finance said Japan posted a record 592.8 billion yen shortfall in its current account, the broadest measure of international trade. The yen strengthens during a period of financial turmoil because the nation has had an annual current-account surplus since 1985, making it less reliant on foreign capital. Japan's current account remained in the red for a second consecutive month as a bulging trade deficit weighed on the country's balance of payments. The 592.8 billion yen ($5.74 billion) deficit in November beat the median estimate for a 380.4 billion yen deficit as a weak yen pushed up the cost of imports. However, economists believe that the current account is likely to return to surplus in coming months as Japan's income balance remains strong and as an expected recovery in exports will take some pressure off the trade balance.
French Consumer price index – December 2013
The annual average rates of change of the CPI will also be published on 14th January. The annual averages and the year-on-year rates of change are different: the annual averages refer to the whole set of prices observed during one year compared to those observed during the previous year. The year-on-year price changes refer to the prices observed during a particular month compared to those observed during the same month of the previous year. Monthly change is +0.3%.
German Wholesale prices in 2013: –0.5% on 2012
The index of selling prices in wholesale trade was down 0.5% on an annual average in 2013 from the preceding year, as reported by the Federal Statistical Office (Destatis). Compared with December 2012, the index decreased by 1.8% in December 2013. In November 2013 the annual rate of change was –2.2% and in October 2013 it was –2.7%, respectively.
Market snapshot at 10:15 am UK time
The ASX 200 closed down 1.51%, the CSI up 0.86%, the Hang Seng down 0.43% and the Nikkei down 3.08% due to the record Japanese balance of payments deficit.
In Europe the majority of the main bourses opened down in the morning session; STOXX is currently down 0.84%, CAC down 0.58%, DAX down 0.95% with FTSE down 0.46%.
Looking towards New York open the DJIA equity index future is currently up 0.03%, the SPX up 0.08% and the NASDAQ future up 0.05%.
NYMEX WTI oil is up 0.23% at $92.01 per barrel, with NYMEX nat has up 0.84% at $4.31 per therm. COMEX gold is up 0.14% at $1252.80 per ounce with silver up 0.10% at $20.40 per ounce.
Forex focus
The yen fell 0.4 percent to 103.41 per dollar early in London, the biggest decline since Dec. 26th. Japan's currency dropped 0.4 percent to 141.34 per euro after appreciating to 140.50 on Monday, the strongest since Dec. 6th. The dollar was little changed at $1.3667 per euro.
The Dollar Spot Index rose 0.2 percent to 1,023.46 after falling 0.7 percent in the previous three days. The gauge slumped 0.4 percent on Jan. 10th after USA government data showed U.S. jobs growth in December fell short of the most pessimistic estimate in a survey of economists.
Sterling rose 0.2 percent to $1.6422 at 9.01 a.m. London time after dropping to $1.6347 yesterday, the lowest level since Jan. 6. The pound gained 0.1 percent to 83.39 pence per euro after sliding 0.6 percent yesterday.
The pound gained 7 percent in the past six months, the best performer among 10 developed-nation currencies tracked by Bloomberg's Correlation-Weighted Indices. The euro has strengthened by 2.7 percent, whilst the dollar has dropped by 2.5 percent. The pound rose from near a one-week low versus the dollar before a government report that economists predicted would show the U.K.'s annual inflation rate stayed above the Bank of England's 2 percent target in December.
Bonds

The benchmark UK 10-year gilt yield was at 2.84 percent after declining to 2.82 percent, the lowest level since Dec. 3rd. The price of the 2.25 percent bond due September 2023 was 95.055. U.K. gilts handed investors a loss of 1.2 percent in the 12 months through yesterday. Treasuries declined 2.1 percent, while German securities returned 0.3 percent.
USA Treasuries were the most expensive in almost a month before a government report economists said will show growth in retail sales fell, the second sign of a December slowdown following a weaker-than-forecast NFP jobs gain. Benchmark 10-year yields were little changed at 2.84 percent early in London, from 2.83 percent on Monday. The price of the 2.75 percent note maturing in November 2023 was 99 7/32. The yield declined to 2.82 percent yesterday, the lowest since Dec. 11th.

« What kind of account size do you need to give FX a real try? The countdown to the monthly anniversary of the QE taper on December 18th 2013 begins »