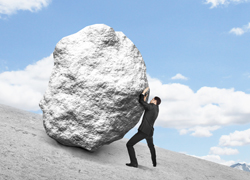 Europe's major stock indices are higher this morning, on hopes that the progress made in Washington last night between the opposing Democrats and Republicans will eventually translate into a debt ceiling and budget deal. Senate majority leader Harry Reid increased hopes of a deal last night telling reporters that he and minority leader Mitch McConnell had made "tremendous progress" towards a deal.
Why October 17th may not be as important as first suggested
Despite many of us focusing on October 17th as the D-day (default) for the USA it may not in fact be the line in the sand. The Bipartisan Policy Center, a politically neutral Washington-based nonprofit research group, estimates that the Treasury will actually be unable to pay all the government's bills on time at some point between Oct. 22nd and Nov. 1st. The Treasury will be able to delay the true drop-dead date for a few days, it is unlikely to be able to do so beyond Nov. 1st because several large payments are due before then, the centre says.
On Oct. 23, $12 billion in Social Security checks are scheduled to go out. A $6 billion interest payment on the national debt is due Oct. 31 and more than $55 billion in Social Security, Medicare, veterans benefits and military pay is slated for the first of the month.
Shai Akabas, a senior analyst at the Bipartisan Policy Center;
"It's not that you know there's one date where the whole thing is going to go kaboom. It's that you have increasing risks, because we've never encountered this series of events in our modern history so we really don't know what's going to happen. But it's fairly safe to say that the further we go without a resolution, the more the risks increase."
German Import prices in August 2013, -3.4% on August 2012
As reported by the Federal Statistical Office (Destatis), the index of import prices decreased by 3.4% in August 2013 from the corresponding month of the preceding year. This was the highest price decline since November 2009 (–5.0%). In July and in June 2013 the annual rates of change were –2.6% and –2.2%, respectively. From July 2013 to August 2013 the index rose by 0.1%. The index of import prices, excluding crude oil and mineral oil products, was 2.6% below the level of a year earlier. The index of export prices decreased 1.0% in August 2013 from the corresponding month of the preceding year.
German ZEW Indicator rises
The ZEW Indicator of Economic Sentiment for Germany has increased by 3.2 points in October 2013. The indicator now stands at a level of 52.8 points (historical average: 23.9 points), its highest mark since April 2010. "The financial market experts remain optimistic. At present a greater impact of the debate on the debt ceiling in the USA is not visible", says ZEW President Prof. Dr. Clemens Fuest. The assessment of the current economic situation for Germany has slightly worsened in October. The respective indicator has fallen by 0.9 points and now stands at the 29.7 points-mark.
Japan's industrial output falls by more than forecast
Japan's industrial production declined more than initially estimated in August, final data from the Ministry of Economy, Trade and Industry showed Tuesday. Industrial output dropped 0.9 percent from a month ago, sharper than the 0.7 percent drop previously estimated. On a yearly basis, production was down 0.4 percent. According to revised data, shipments slipped 0.1 percent on month, compared to the initial estimate of 0.4 percent rise. At the same time, the decline in inventory was revised marginally to 0.2 percent from 0.1 percent.
UK's inflation figures are published in line with expectations
The UK's RPI figure came in at 3.2%, CPI came in at 2.7% (up a tick) whilst input PPI came in down 1.2% year on year. The PPI output separate data released by the ONS on Tuesday showed that annual factory gate inflation slowed to 1.2 percent in September, compared with forecasts for 1.3 percent. That was the smallest rise in prices since May. Similarly input prices fell by -1.2% suggesting that in the pipeline CPI and RPI may fall.
Market snapshot at 10:15 am UK time
Asian markets experienced mixed fortunes in the overnight trading session; the Nikkei closed up 0.26%, Hang Seng up 0.51% but the CSI 300 closed down 0.20%. The ASX 200 closed up sharply after the release of the RBA central bank's minutes.
European bourses have risen sharply in the morning session. STOXX index up 0.53%, FTSE up 0.68%, CAC up 0.56%, DAX up 0.61%. The Portuguese index is up 1.04%, whilst the Athens exchange is up by the most on the day, up 1.57% at the time of writing.
Commodities have endured a sell off in the morning session. ICE WTI oil is down 0.69% at $101.70 per barrel, NYMEX natural is up 0.60% at $3.84 per therm. COMEX gold has  sold off sharply down 1.59% at $1256.30 per ounce with silver on COMEX down sharply at $20.78 per ounce down 2.77% with the psyche level of $20.00 looking under threat.
Equity index futures for the USA indices are up marginally, the DJIA is up 0.08%, the SPX up 0.06% and the NASDAQ equity index future is up 0.13% all three future indices suggesting that the USA bourses will open up tentatively  when New York opens.
Bonds
Treasuries fell for a fifth day, the longest losing streak since June, after President Barack Obama and congressional leaders said there has been progress on a budget agreement for the U.S. debt-ceiling deadline. Benchmark Treasury 10-year yields rose three basis points, or 0.03 percentage point, to 2.72 percent early in London. The rate touched 2.74 percent, the highest since Sept. 23rd. The price of the 2.5 percent security due August 2023 slid 1/4, or $2.50 per $1,000 face amount, to 98 1/8. The last time notes fell for five days or more was a seven-day decline that ended June 25th.
Forex focus
The dollar fell 0.1 percent to $1.3568 per euro early in London after falling 0.3 percent over the past two days to $1.3561 yesterday. The Aussie climbed 0.6 percent to 95.42 U.S. cents, the strongest since June 19th. Versus yen, the greenback slid 0.2 percent to 98.40. The euro weakened 0.1 percent to 133.49 yen and earlier touched 133.83, the most since since Sept. 26th. New Zealand's kiwi climbed 0.4 percent to 83.93 U.S. cents as the MSCI Asia Pacific Index of stocks rose 0.5 percent.
« When trading the markets is it better to have a loser's mentality rather than a winner's mentality? Fitch Places United States' 'AAA' on Rating Watch Negative »