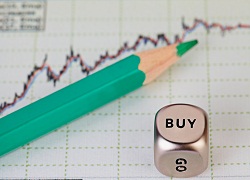 The main indices in New York rose sharply towards the end of the trading sessions as the FOMC meeting minutes were released, due to passages within the minutes which appeared to contradict many analysts' thoughts regarding the pace of interest rate rises. The Fed appears to be backtracking on earlier protestations and is now suggesting that interest rate rises are off the table until 2015.
Wholesale inventories were up, as sales rebound
U.S. wholesale inventories rose at a slower pace in February than in the prior month, which could support views that restocking will not help the economy in the first quarter. The Commerce Department said on Wednesday wholesale inventories increased 0.5 percent after a revised 0.8 percent gain in January. February's increase was in line with economists' expectations. Stocks at wholesalers had previously been reported to have increased 0.7 percent in January. Inventories are a key component of gross domestic product changes. The component that goes into the calculation of GDP – wholesale stocks excluding autos – rose 0.5 percent in February.
Several Fed Officials Said Forecasts Overstated Rate-Rise Pace
Several Federal Reserve policy makers said a rise in their median projection for the main interest rate exaggerated the likely speed of tightening, according to minutes of their March meeting.
Several participants noted that the increase in the median projection overstated the shift in the projections.
the minutes of the March 18-19 Federal Open Market Committee meeting showed. Some expressed concern the rate forecasts
could be misconstrued as indicating a move by the committee to a less accommodative reaction function.
Treasury yields rose last month after policy makers predicted that the benchmark interest rate would rise faster.
Market overview at 10:00 PM UK time
The DJIA closed up 1.06%, SPX up 0.92%, NASDAQ up 1.51%. Euro STOXX closed up 0.16%, CAC up 0.40%, DAX closed up 0.16% and the UK FTSE up 0.68%. The DJIA equity index future is currently up 1.05%, SPX up 0.77% and the NASDAQ future is up 1.80%.
NYMEX WTI oil was up 0.91% on the day at $103.49 per barrel, NYMEX nat gas was up 0.84% at 4.57 per therm. COMEX gold was up 0.93% at $1310 per ounce with silver down 0.81% at $19.90 per ounce.
Forex focus
The Bloomberg Dollar Spot Index, which tracks the greenback against 10 major counterparts, fell 0.3 percent to 1,005.47 mid-afternoon in New York, for a fourth straight decline. It touched 1,005.10, the lowest since Oct. 30th.
The yen was little changed at 101.82 per dollar after dropping 0.4 percent, the biggest decline since April 1st. It gained 1.3 percent yesterday. Japan's currency depreciated 0.4 percent to 141.01 per euro a day after jumping 0.9 percent. The dollar slid 0.4 percent to $1.3849 per euro.
The dollar fell to the weakest level in more than five months versus a basket of peers after several Federal Reserve policy makers said projections for an interest-rate rise were overstated in minutes from its last meeting.
The pound gained 0.1 percent to $1.6762 readily evening London time after advancing to $1.6765, the highest level since March 7th. The U.K. currency fell 0.1 percent to 82.48 pence per euro after appreciating to 82.31 pence, the strongest since March 6th. The pound reached the strongest level in a month against the dollar and euro after a government report showed the U.K. trade deficit narrowed in February.
Bonds briefing
Two-year note yields fell three basis points, or 0.03 percentage point, to 0.37 percent mid-afternoon in New York. The yield was up as much as two basis points earlier today. The benchmark 10-year yield was little changed at 2.69 percent after rising as much as four basis points. The yield declined 12 basis points during the previous four days.
The gap between two and 10-year debt reached 231 basis points after narrowing to 221 bas points on March 27, the least since October. Treasury two-year notes rallied after meeting minutes showed Federal Reserve policy makers said a rise in their median projection for the main interest rate exaggerated the likely speed of policy tightening.
Fundamental policy decisions and high impact news event for April 10th
Thursday sees Australia's inflation expectation published and the unemployment rate which is expected to remain at 6.1% with 7.3K extra jobs created. China's trade balance is expected in at 0.9 bn. The ECB will publish its monthly bulletin whilst French Industrial production for the month is predicted to come in up 0.2% month on month. The UK is predicted to keep interest rates at a record low with quantitative easing at the level of £375 billion. The BoE's MPC will follow up the decision with a statement. Unemployment claims in the USA are predicted in at 314K for the week with import prices up 0.2% month on month in the USA. The USA will conduct a thirty year bond auction whilst the Federal budget balance is predicted to come in at -$76.5 bn.

« German exports have risen by 4.3% whilst the UK's trade deficit comes in at -£9.1 billion Curing the loneliness of the long distance forex trader »