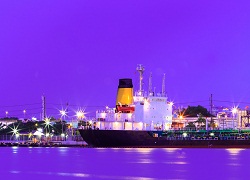 Japanese equities were in bearish territory after any hopes for monetary stimulus faded, whilst the rest of Asia-Pacific was up after Wall Street staged a relief rally on Tuesday. Japan's losses were driven by comments from central bank governor Haruhiko Kuroda. On Tuesday he acknowledged that last week's increase in the national sales tax was likely to push the economy into a decline this quarter, but said he foresees the economy rebounding by summer seen by analysts as code for no need for further stimulus.
German exports have risen by 4.6% year on year whilst the trade surplus missed expectations of $18 bn positive to come in at $16.3bn. Looking at the figures in more detail reveals that exports decreased by 1.3% on January 2014, whilst imports increased by 0.4%.
The IMF has published its findings regarding the world economy and is concerned that globally we have sub-par growth. It did isolate certain countries as performing well, in particular the UK whose growth it predicts will be better than any other G7 nation (minus China). However, the UK's insular growth heavily reliant on personal debt can only stretch so far if the rest of the global economy is treading water. Despite this George Osborne was given a boost on Tuesday after the IMF redacted its criticism of his austerity policies predicting Britain will grow faster than any other rich economy this year. The IMF raised its forecast for UK growth to 2.9 per cent this year – the fastest of any country in the G7 group of leading economies. It also praised Mr Osborne for sticking to his fiscal plan.
The UK's negative trade balance has eased somewhat in the most recent figures available published this morning whilst overnight a survey was published citing that UK retailers are now in a spiral of deflation; in simple terms they're lowering their prices to a level where the consumer then bites.
German exports in February 2014: +4.6% on February 2013
Germany exported goods to the value of 92.4 billion euros and imported goods to the value of 76.1 billion euros in February 2014. Based on provisional data, the Federal Statistical Office (Destatis) also reports that German exports increased by 4.6% and imports by 6.5% in February 2014 on February 2013. The month-on-month comparison showed opposite developments of exports and imports upon calendar and seasonal adjustment. While exports decreased by 1.3% on January 2014, imports increased by 0.4%. The foreign trade balance showed a surplus of 16.3 billion euros in February 2014. In February 2013, the surplus had amounted to 16.8 billion.
IMF Survey: Recovery Strengthening, but Requires Stronger Policy Effort
The global recovery is becoming broader, but the changing external environment poses new challenges to emerging market and developing economies, says the IMF's latest World Economic Outlook (WEO). The IMF forecasts global growth to average 3.6 percent in 2014―up from 3 percent in 2013―and to rise to 3.9 percent in 2015. The strengthening of the recovery from the Great Recession in the advanced economies is a welcome development, according to IMF staff. But the latest WEO also emphasizes that growth remains subpar and uneven across the globe.
BRC-Nielsen UK Shop Price Index
Overall shop prices reported deflation for the eleventh consecutive month in March, accelerating to 1.7% from 1.4% in February. This is the deepest level of deflation since the series began in December 2006. Food inflation slowed to 0.8% from 1.1% in February – the lowest ever recorded. Non-food reported annual deflation of 3.2% in March from 3.0% in February – the lowest ever recorded. Helen Dickinson, British Retail Consortium Director General, said:
Retailers have rightly been getting recognition for their contribution to the economic recovery, including good news recently on apprentices and training.
UK Trade, February 2014
UK Trade shows the extent of import and export activity and is a key contributor to the overall economic growth in the UK. Seasonally adjusted, the UK's deficit on trade in goods and services was estimated to have been £2.1 billion in February 2014, compared with a deficit of £2.2 billion in January 2014. There was a deficit of £9.1 billion on goods, partly offset by an estimated surplus of £7.0 billion on services. Due to the impact of erratic commodities on recent monthly trade statistics, it is recommended that users also focus on three month on three month movements.
BOJ will definitely make 2% inflation target: Kuroda
The Bank of Japan on Tuesday reported steady progress toward its goal of achieving 2% inflation within two years. Gov. Haruhiko Kuroda is "convinced" that the target will be met, the central bank chief said in a closely watched news conference after a monthly policy board meeting. The BOJ set the target as part of its unprecedented quantitative easing program unveiled a year ago. Kuroda emphasized that the economy will continue to grow at a moderate pace, even after the April 1 consumption tax hike, and tentatively dismissed the possibility of additional easing in the near future.
Market snapshot at 9:30 am UK time
The ASX 200 closed up 0.98%, the CSI 300 up 0.06%, the Hang Seng up 0.83%, with the Nikkei falling sharply by 2.10%. Euro STOXX is up 0.24%, CAC up 0.38%, DAX up 0.24% and the UK FTSE up 0.44%. Looking towards New York's open the DJIA equity index future is up 0.11%, the SPX future down 0.13% and the NASDAQ future is up 0.06%. ICE Brent crude is down 0.16% at $107.50 per barrel.
Forex focus
Australia's currency reached 93.87 U.S. cents, the strongest since Nov. 20th, before trading at 93.66 early in London, rising 0.1 percent from yesterday. New Zealand's dollar appreciated 0.3 percent to 87 U.S. cents after touching 87.08, the highest since August 2011.
The greenback was little changed at $1.3790 per euro after sliding 0.4 percent yesterday. It rose 0.2 percent to 102.01 yen following a 1.3 percent drop, the most since Aug. 27th. Japan's currency weakened 0.2 percent to 140.69 per euro. The pound was little changed at 82.35 pence per euro after touching 82.32, the strongest since March 6th.
The Australian and New Zealand currencies advanced after data showed home-loan approvals increased at a faster pace than estimated in the larger nation. The dollar snapped a three-day slide versus the yen.
Bonds briefing
Benchmark 10-year yields were little changed at 2.69 percent early in London. The figure compares with the average over the past decade of 3.46 percent. The price of the 2.75 percent security due in February 2024 was 100 1/2. Japan's 10-year yield held at 0.615 percent. Australia's declined two basis points to 4.07 percent. A basis point is 0.01 percentage point.
Treasuries rose for a fourth day yesterday, capping the longest winning streak in almost a month. Treasury market inflation expectations approached the lowest level in six months, helping support prices before investors bid for $21 billion of benchmark 10-year debt today.

« Holding onto your winners without fearing losing profits Main bourses in New York rise as some Fed officials doubt the pace of interest rate rises »