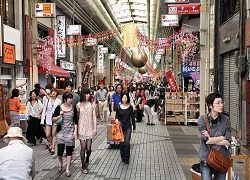 Analysts had expected a circa 13% rise in retail sales in March, due to many consumers bringing forward their purchases in order to avoid the hike in sales tax that the Japanese government introduced from April. However, despite the rush sales still fell short of analysts' expectations, coming in at 11% up versus predictions of a 13% rise.
In Germany the import prices gauge continues to fall, German import prices have fallen by -3.3% in March versus a year earlier. Quite how this will affect the German economy is too early to tell. On the face if it German prices for goods, whether straight to retail or manufactured, should be cheaper, however, the threat of deflation also exists in a country that has already posted very low inflation figures lately.
Tensions in Ukraine and concerns ahead of this week's US central bank meeting weighed heavily on Asian bourses, pushing equities lower. The prospect of lower global supply of Russian-produced commodities sent Chicago futures up. Russia is one of the world's largest suppliers of nickel, the price of three-month delivery on the London Metal Exchange rose as much as 1.4 per cent to $18,700 a metric tonne, hitting a 14-month high.
The U.S. and European Union will impose new sanctions as early as today on Russian companies and individuals close to President Vladimir Putin over the escalating crisis in Ukraine, according to officials.
We will be looking to designate people who are in his inner circle, who have a significant impact on the Russian economy.
Deputy White House National Security Adviser Tony Blinken said yesterday.
German Import prices in March 2014: –3.3% on March 2013
As reported by the Federal Statistical Office (Destatis), the index of import prices decreased by 3.3% in March 2014 compared with the corresponding month of the preceding year. In February 2014 and in January 2014 the annual rates of change were –2.7% and –2.3%, respectively. From February 2014 to March 2014 the index decreased by 0.6%. The index of import prices, excluding crude oil and mineral oil products, was 2.8% below the level of a year earlier. The index of export prices decreased by 1.0% in March 2014 compared with the corresponding month of the preceding year. In February 2014 and in January 2014 the annual rates of change.
Japan Retail Sales Surge Before Tax Hike
Preliminary retail sales data from the Ministry of Economy, Trade and Industry released Monday. Japan's retail sales rose 11.0% on year in March, coming in weaker than the median forecast of +13.0%. However, the number marked the eighth straight year-on-year rise led by strong demand for a wide range of goods from consumer electronics and automobiles to clothing, medicine and cosmetics before the 5% sales tax was hiked to 8% on April 1. The pace of increase accelerated sharply from +3.6% in February, when heavy snow storms dampened sales. Retail sales totaled Y13.7 trillion in March.
Market snapshot at 10:00 am UK time
The ASX 200 closed up 0.09%, the CSI 300 closed down 1.52%, the Hang Seng closed down 0.38% and the Nikkei index was down 0.98%. In Europe the main bourses have opened up despite the tensions in the Ukraine. Euro STOXX is up 0.54%, CAC up 0.39%, DAX up 0.50% and the UK FTSE up 0.35%. Looking towards the New York open the DJIA equity index future is up 0.12%, the SPX future is up 0.15% and the NASDAQ future is up 0.14%.
NYMEX WTI oil is up 0.78% at $101.38 per barrel, NYMEX nat gas is up 0.28% at $4.66 per therm. COMEX gold is up 0.25% at $1304, with silver on COMEX down 0.04% at $19.71 per ounce.
Forex focus
The yen was little changed at 102.22 per dollar early in London from April 25, when it capped a 0.3 percent weekly gain and reached 101.96, the strongest since April 17th. Japan's currency fetched 141.31 per euro from 141.30 at the end of last week, when it strengthened 0.2 percent. The single currency slid 0.1 percent to $1.3825. The yen held weekly gains against most of its 16 major peers as tension in Ukraine affected investor demand for safety.
The Bloomberg Dollar Spot Index, which tracks the U.S. currency against 10 of its major counterparts, was little changed at 1,011.14 from the end of last week. It's down 0.5 percent this month.
The Aussie bought 92.91 U.S. cents from 92.81 at the end of last week, when it rose 0.2 percent. It touched 92.52 on April 24th, the lowest since April 4th.
Bonds briefing
Benchmark 10-year yields increased two basis points to 2.68 percent early in London. The price of the 2.75 percent security due in February 2024 fell 5/32, or $1.56 per $1,000 face amount, to 100 19/32. Thirty-year yields were little changed at 3.45 percent. The figure dropped to 3.42 percent on April 25, the lowest level since July.
Japan's 10-year yield slid 1/2 basis point to 0.615 percent. A basis point is 0.01 percentage point. Australia's dropped as low as 3.91 percent, a level not seen since October. Treasuries fell, snapping a rally that pushed 30-year yields to a nine-month low, before reports on gross domestic product and employment this week.
« Swing/trend analysis for week beginning Sunday April 27th UK GDP rises by 0.8% in the last quarter and by 3.1% annually »