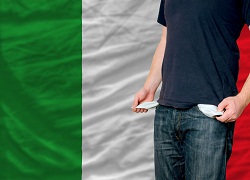 Disappointing economic data from Japan and a further decline in China's currency had Asian equities experiencing a mixed session overnight/early morning on Friday. The renminbi, which is tightly guided by the Chinese central bank, fell by up to 0.90 per cent against the US dollar. This is now the currency's ninth day of declines.
From Italy the news was grim as unemployment has now reached an all-time recorded high of 12.9%. The grimmest element of the news was arguably the desperate levels of youth unemployment at 42.4%. But perhaps the worse news was the rate of employment (participation rate) at 53.3%. Close on half of adults of working age in Italy are not in work.
The UK mainstream media has done what it normally does when house prices have risen and heralded the news. Prices have risen by 9.3% year on year, meaning that first time buyers who could not afford to buy this time last year are paying close on record amounts to step on the first rung of the property ladder.
However, fear not young British buyers, you can now get a fifteen percent contribution to buy from your friendly govt. Just ignore the fact they'll have an equity stake in your home and want you to pay back the debt inside five years. But that's easily done; the house will go up in value, you remortgage, pay back the debt and are left with an even bigger debt than you'd have needed this time last year, with the added threat of base interest rates rising to perhaps 3% by 2017. What could possibly go wrong when govts. step in to deliberately create a house price bubble in order to be re-elected?
German Retail turnover in January 2014: +0.9% in real terms on January 2013
According to provisional results of the Federal Statistical Office (Destatis), retail turnover in January 2014 in Germany increased 0.9% in real terms and 2.0% in nominal terms compared with the corresponding month of the previous year. The number of days open for sale was 26 in January 2014 and 26 in January 2013, too. When adjusted for calendar and seasonal variations (Census-X-12-ARIMA), the January turnover was in real and nominal terms 2.5% larger than that in December 2013.
UK House prices continued to rise in February
House prices recorded their fourteenth successive monthly increase in February, rising by 0.6%. The price of a typical home was 9.4% higher than February 2013. Demand continues to be supported by record low interest rates, improved credit availability and rising consumer confidence thanks to the healthy gains in employment recorded in recent quarters. Price growth is being supported by the fact that the supply of housing remains constrained, with housing completions still well below their pre- crisis levels, which was already insufficient to keep up with the pace of household formation.
Italy January jobless hits new record 12.9 percent
Italy's seasonally adjusted unemployment rate rose to a new record of 12.9 percent in January, its highest level since records began in 1977, data showed on Friday. Youth unemployment, measuring job-seekers between 15 and 24 years old, was 42.4 percent in January, up from 41.7 percent in December. Youth unemployment is also at its highest level in 37 years. The weaknesses in Italy's labour market are equally evident in its chronically low employment rate, which was at 55.3 percent in January. Istat said there were 478,000 fewer people in employment at the end of 2013 than a year earlier and 984,000 fewer than in 2008.
French Household consumption expenditure on goods – January 2014
In January, households expenditure on goods decreased by 2.1% in volume*, after a 0.2% increase in December. This decrease is mainly attributable to a fall in car purchases and to a decrease of energy consumption. Engineered goods: decreasing Durables: decreasing after a bounce in December (+2.8%), households expenditure on durable goods declined in January (-4.3%), mainly because of the fall in car purchases. They fell in January (-7.7%) after an increase in December (+2.9%) due to households expecting a strengthening of penalties on the purchase of cars from January 1st. Purchases in household durables slightly decreased (-1.5%).
Market snapshot at 9:30 am UK time
The ASX 200 closed down 0.12% on the day, the CSI 300 up 1.15%, the Hang Seng up 0.04% with the Nikkei down 0.55%. Euro STOXX is down 0.27%, CAC down 0.27%, DAX down 0.08%, FTSE down 0.29%.
The DJIA equity index future is down 0.22%, the SPX down 0.22% the NASDAQ future down 0.24%. NYMEX WTI oil is down 0.57% at $102.0- per barrel, NYMEX nat gas down 0.73% at $4.48 per therm. COMEX gold is down 0.34% at $1327.30 per ounce with silver down 0.32% at $21.22 per ounce.
Forex focus
The yen strengthened 0.3 percent to 101.85 per dollar early in London from yesterday, poised for a 0.6 percent gain this week, the most since the five days ended Jan. 24th. It added 0.3 percent to 139.63 per euro, up 0.8 percent since Feb. 21st and set to advance for a fifth day, the longest streak of gains since November 2012.
The franc was little changed at 1.2172 per euro after reaching 1.2157 yesterday, the strongest level since April 18th. Europe's 18-nation currency was at $1.3712 from $1.3710, having fallen 0.3 percent since Feb. 21st.
The yen strengthened against most of its 16 major peers as rising tensions in Ukraine boosted haven demand. China's yuan slid by the most since 2008 on speculation that the government will broaden the currency's trading band.
China's yuan dropped as much as 0.9 percent in Shanghai, the most in China Foreign Exchange Trade System prices going back to 2007. It touched 6.1808 per dollar, the weakest since April 22nd. China's yuan tumbled by the most on record on speculation the central bank will widen the currency's trading band, allowing greater volatility at a time when growth is slowing in the world's second-largest economy.
The euro has lost 0.2 percent this year, according to Bloomberg Correlation-Weighted Indexes that track 10 developed-nation currencies. The yen led gains with a 3.8 percent advance, while the dollar has strengthened 0.1 percent.
The Australian dollar lost 0.1 percent to 89.55 U.S. cents late afternoon in Sydney, extending its weekly drop to 0.3 percent. It has risen 2.3 percent this month. New Zealand's kiwi climbed to 84.14 U.S. cents, the highest since Jan. 14th, before trading at 83.87, 0.2 percent higher than yesterday. It's gained 1.3 percent since Feb. 21st and is headed for a 3.7 percent monthly advance. The Australian dollar was set for a second week of declines as prospects of continued reduction in U.S. monetary stimulus and weaker-than-expected local business investment data damped demand for the currency.
Bonds briefing
Australia's 10-year government bond yield dropped to as low as 4.01 percent, a level not seen since Feb. 5th. The yield on debt due in three years touched 2.82 percent, the lowest since Feb. 4th. New Zealand's two-year swap rate, a fixed payment made to receive floating rates that are sensitive to interest-rate expectations, rose two basis points to 3.82 percent.
« The ADX, the average directional index. How to use it and when Swing/trend trading analysis for the week beginning March 2nd »