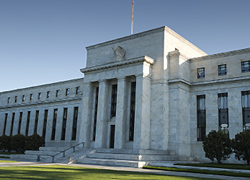 The U.S. currency climbed to its highest point in 3 weeks against the Japanese currency after Federal Reserve finished bond purchases because of the labour market recovery.
The dollar went up against the 14 of the 16 peers as investors increased the odds for an interest rate climb for the upcoming year although the Federal Open Market Committee kept its promise to go on borrowing costs at a low. The Kiwi fell just after the Reserve Bank motioned it would not change rates for a prolonged period. The Governor of the Bank of Japan Haruhiko Kuroda is to make an appearance in parliament just before a crucial policy meeting that will take place tomorrow.
The markets strategist at Westpac Banking Corp. Imre Speizer quoted;
Fed policy makers have done away with any doubts that they will normalize policy. The U.S. currency is back on its climb
The greenback climbed 0.2 percent to 109.11 yen at 3:05 pm Tokyo time just after it touched 109.16 yen making it the highest since back in October the 7th. It went ahead 0.3 percent to $1.2594 per euro just after it rose 0.8 percent. The Yen was found at 137.44 per euro from its 137.56. The Aussie dropped 0.4 percent to 87.62 American cents.
An index tracking the greenback versus 10 peers went ahead 0.3 percent to 1,072.19 after it saw a gain of 0.6 percent yesterday that was its highest since October the 3rd.
« The dollar keeps it 3 day drop Yen takes a drop as Bank of Japan stimulates easing »