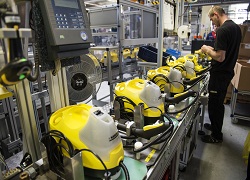 In the overnight early morning session news was revealed that the BOJ decided to keep the monetary stimulus programme unaltered at an annual pace of 60 trillion to 70 trillion yen ($587-685 billion).
Turning to Europe, whilst Germans are spending less 'in the shops', retail sales fell by 1.9% year on year, Germany's unemployment count fell by 25,000 in April, well ahead of the 10,000 fall that many analysts and economists polled had pencilled in. The overall rate of unemployment stayed steady at the two decade low of 6.7%.
Attention this evening will turn to the USA as the Federal Reserve wraps up its latest two day meeting with the expectation that the quantitative easing programme that the Fed has plotted a course on will be further reduced by circa $10 billion.
Asian stocks swung between gains and losses as investors weighed up the impact of corporate earnings before the Federal Reserve decides on U.S. monetary policy in its two day meeting due to end today. The Bank of Japan refrained from expanding its monetary stimulus.
Ukrainian authorities appear to have lost control of law and order in Donetsk, the capital city of the province at the heart of separatist unrest, as violent pro-Russia militants roam the streets unchallenged.
Due to a recalculation of China's PPP exchange rate, the US is on the brink of losing its status as the world's largest economy, and is likely to slip behind China this year, sooner than widely anticipated.
The Chinese Academy of Social Sciences, one of Beijing's top government think tanks, has revised its 2014 GDP growth forecast down to 7.4 percent, below the official 7.5 percent target, and says that growth could slow to as low as 7 percent, state media reported on Wednesday.
French Household consumption on goods increased in March (+0.4%)
In March, household consumption expenditure on goods increased anew: +0.4% in volume*, after -0.1% in February. A decrease in clothing expenditure partially offsets an increase in consumption of energy products. Taking into account the decrease in January (-1.8%), household consumption expenditure on goods fell over Q1: -1.2%, after +0.6% at the end of last year. This fall was mainly attributable to decline in consumption of energy products and in car purchases. Engineered goods: decreasing slightly Durables: almost stable in March, decreasing over the quarter Household expenditure on durable goods almost held steady in March (-0.1%).
German Retail turnover in March 2014: –1.9% in real terms on March 2013
According to provisional results of the Federal Statistical Office (Destatis), retail turnover in March 2014 in Germany decreased 1.9% in real terms and 1.0% in nominal terms compared with the corresponding month of the previous year. The number of days open for sale was 26 in March 2014 and 25 in March 2013. However, the Easter sales fell last year in the month of March, this year it was, however, in April. When adjusted for calendar and seasonal variations the March turnover was in real terms 0.7% and nominal terms 0.6% smaller than that in February 2014.
German Unemployment Falls a Fifth Month as Economy Grows
German unemployment fell more than twice as much as forecast in April in a sign that Europe's largest economy will continue to lead the recovery in the euro area. The number of people out of work decreased for a fifth month, dropping a seasonally-adjusted 25,000 to 2.872 million, the Nuremberg-based Federal Labor Agency said today. Economists forecast a decline of 10,000, according to the median of 25 estimates in a Bloomberg News survey. The adjusted jobless rate was unchanged at 6.7 percent, the lowest level in two decades.
BOJ keeps policy on hold, focus on semi-annual report
The Bank of Japan kept monetary policy steady on Wednesday. As expected, the central bank voted unanimously to maintain its pledge of increasing base money, its key policy gauge, at an annual pace of 60 trillion to 70 trillion yen ($587-685 billion). Markets are focusing on the BOJ's semi-annual report due out at 3 p.m. (2 a.m. EDT), which will issue long-term economic and price forecasts including, for the first time, those for fiscal year 2016/17 ending in March 2017.
Market overview at 10:00 am UK time
The ASX 200 closed up 0.05%, the CSI 300 up 0.01%, the Hang Seng was down 1.35%, with the Nikkei up 0.11%. In Europe the main bourses have opened up in the red, the euro STOXX is down -0.40%, CAC down -0.34%, DAX down -0.21% and the UK FTSE down -0.01%. Looking towards the New York open the DJIA equity index future is down 0.14%, the SPX down 0.21% and the NASDAQ future down 0.39%.
NYMEX WTI oil is down 1.05% at $100.22 per barrel with NYMEX nat gas down 0.39% at $4.81 per therm. COMEX gold is down 0.41% at $1291.00 per ounce, with silver down 0.86% at $19.37 per ounce.
Forex focus
Europe's shared currency bought $1.3814 early in Tokyo from $1.3812 yesterday, when it declined 0.3 percent. It was little changed at 141.72 yen from yesterday, when it slid 0.1 percent. Japan's currency was little changed at 102.62 per dollar from yesterday, when it touched 102.78, the weakest since April 8th. The euro held losses from yesterday against most major peers before data forecast to show inflation in the region remained below the European Central Bank's goal.
Bonds briefing
Benchmark 10-year yields were little changed at 2.69 percent early in London. The price of the 2.75 percent security due in February 2024 was 100 17/32. Ten-year yields increased 1/2 basis point in Japan to 0.62 percent. Yields rose one basis point in Australia to 3.95 percent. A basis point is 0.01 percentage point. Treasuries headed for a gain this month, a fifth straight April rally, before a government report economists said will show U.S. gross-domestic-product growth slowed in the first quarter.
« What attracted us to FX trading, why do we do it, how is it 'working out' for us, have we met our goals? Scottish Independence looming over the U.K. »