2013-05-30 04:30 GMT
OECD: Global economy is moving forward at multiple speeds
In its biannual Economic Outlook report, published on Wednesday, the Organization for Economic Cooperation and Development reduced the global growth outlook to 3.1% from the previous estimate of 3.4%. It expects the US and the Japanese economies to improve this year, suggesting at the same time that the Eurozone will continue to lag which might have "negative implications for the global economy."
The OECD cut the Eurozone growth forecast to -0.6% from -0.1% estimated in November 2012, warning that "activity is still falling, reflecting ongoing fiscal consolidation, weak confidence and tight credit conditions, especially in the periphery." The Eurozone economy should rebound to 1.1% in 2014. The OECD also urged the ECB to seriously consider implementing QE and introducing negative deposit rates in order to stimulate recovery in the area. China, which already saw its growth outlook reduced on Tuesday by the IMF, is expected to grow by 7.8% this year, down from a previous estimate of 8.5%. The organization was more upbeat about the US, which is projected to grow by 1.9% in 2013 and by 2.8% in 2014. Japan's growth forecast was hiked to 1.6% from 0.7%, with the prospect of a 1.4% gain next year, owing to the BoJ's implementation of fiscal and monetary stimulus programs.-FXstreet.com
2013-05-30 06:00 GMT
UK. Nationwide Housing Prices n.s.a (YoY) (May)
2013-05-30 12:30 GMT
USA. Gross Domestic Product Price Index
2013-05-30 14:30 GMT
USA. Pending Home Sales (YoY) (Apr)
2013-05-30 23:30 GMT
Japan. National Consumer Price Index (YoY) (Apr)
2013-05-30 04:39 GMT
USD eases to key level at 83.50 ahead of US GDP
2013-05-30 03:11 GMT
GBP/USD – Bullish engulfing candle to spur further advances?
2013-05-30 02:29 GMT
EUR/USD edging towards resistance at 1.3000
2013-05-30 01:50 GMT
Aussie edging higher towards resistance at 0.9700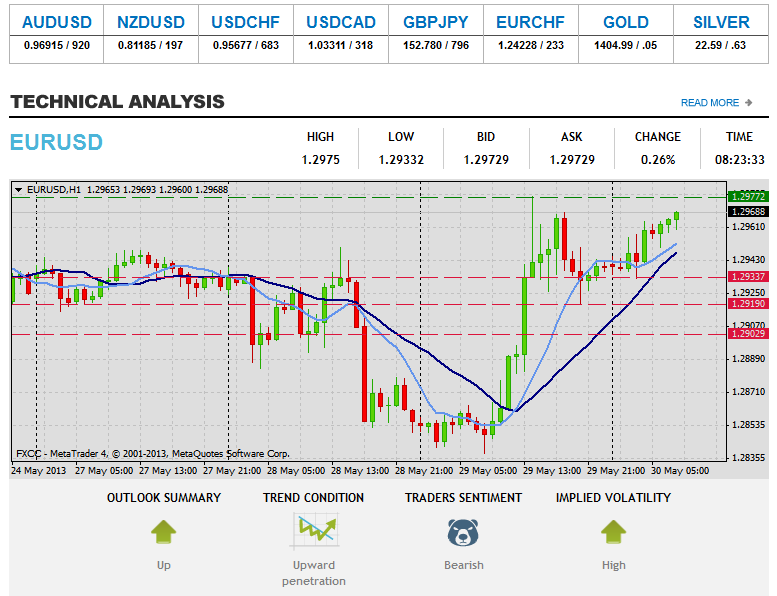 MARKET ANALYSIS – Intraday Analysis

Upwards scenario: Recent upside penetration is limited now to the key resistive barrier at 1.2977 (R1). Appreciation above this mark might likely push the pair toward to next targets at 1.2991 (R2) and 1.3006 (R3) in potential. Downwards scenario: Possible bull back on the hourly chart might face next hurdle at 1.2933 (S1). Break here is required to open road towards to our next retracement target at 1.2919 (S2) en route to final aim at 1.2902 (S3).
Resistance Levels: 1.2977, 1.2991, 1.3006
Support Levels: 1.2933, 1.2919, 1.2902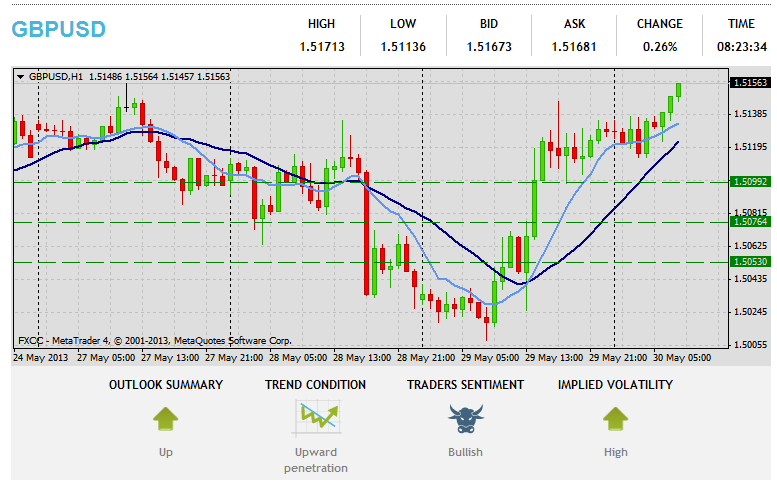 Upwards scenario: A bullish oriented market participant might pressures to test our next resistance level at 1.5165 (R1). Loss here could open a route towards to our interim target at 1.5188 (R2) and the main aim for today locates at 1.5211 (R3). Downwards scenario: As long as price stays below the moving averages our medium-term outlook would be negative. Though, extension lower the 1.5099 (S1) is being able to drive market price towards to our next supports at 1.5076 (S2) and 1.5053 (S3).
Resistance Levels: 1.5165, 1.5188, 1.5211
Support Levels: 1.5099, 1.5076, 1.5053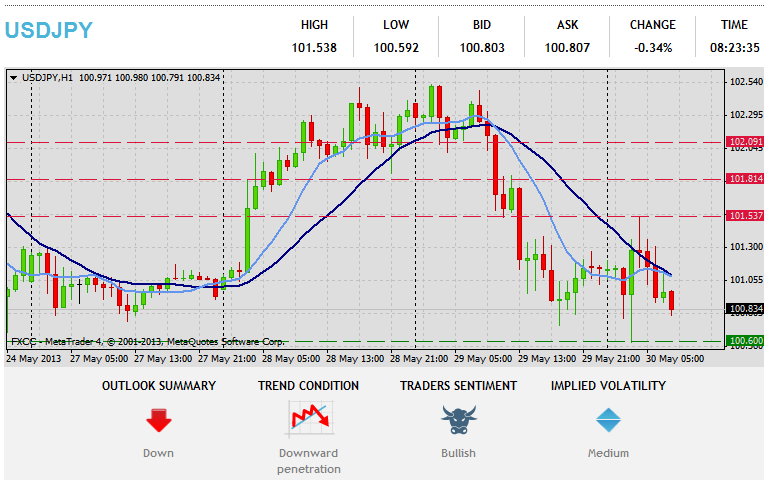 Upwards scenario: USDJPY recently tested negative side and currently remains stable below the 20 SMA. Possible price appreciation is limited to the resistance level at 101.53 (R1). Only clear break here would suggest next intraday targets at 101.81 (R2) and 102.09 (R3). Downwards scenario: Any prolonged movement below the support at 100.60 (S1) might prolong downside pressure and drive market price towards to supportive means at 100.34 (S2) and 100.08 (S3).
Resistance Levels: 101.53, 101.81, 102.09
Support Levels: 100.60, 100.34, 100.08
« EMU: M3 Money Supply expands 3% in April AUD/USD upside capped by 0.9700 »